New Holland America Ship Named ms Koningsdam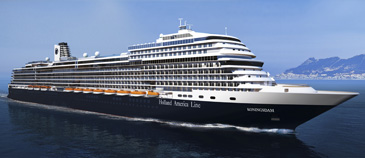 The name for the latest addition to the famed Holland America fleet was recently announced as the ms Koningsdam; a name that tributes both the company's history and the new era of luxury cruising that Holland America Line will usher in with this 2,650 passenger ship.
Throughout its 141-year history, Holland America Line has bestowed the "dam" suffix on each of their vessels, and the Koningsdam carries on this tradition. In Dutch, the word "koning" means "king" which couldn't be a better way to describe this glorious new ship.
Holland America has a proud heritage with the Netherlands, and many of Holland America Line's ships have been christened by members of the Dutch Royal Family over the past 75 years. Most recently, ms Nieuw Amsterdam was christened by Her Royal Highness Princess Máxima in 2010. And in 2008 ms Eurodam was christened by Her Majesty Queen Beatrix of the Netherlands.
With such a proud heritage, it seems only fitting that their newest vessel be known as a royal member of their proud family. "This new Pinnacle Class ship will be our largest, most contemporary vessel, and it was only fitting to give it a name that embodies great achievement for the future, while embracing timeless tradition." said Stein Kruse, chief executive officer of the Holland America Group.
To learn more about Holland America Line, call 1-800-377-9383 or complete our online quote request and one of our cruise experts will contact you shortly.


The Cruise Web, Inc.
reply@cruiseweb.com
1-800-377-9383