The Cruise Web Joins Oceania's Cruise Connoisseur Club
For the third year in a row, The Cruise Web was invited into Oceania Cruises' Cruise Connoisseur Club. This prestigious honor is reserved only for the top North American travel agencies that show an outstanding level of support for the Oceania Cruises brand.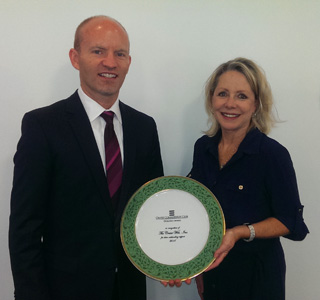 In honor of this achievement, Tina White, regional sales director for Oceania Cruises, presented Cruise Web President Frans Hansen with a decorative plate – very fitting considering Oceania's devotion to top-tier, one-of-a-kind cruise dining. The beautiful award was unveiled in front of the entire Cruise Web team as Tina praised the hard work put in by our agency's cruise consultants and support staff.
For more than ten years, Oceania Cruises has offered an intimate and affordable deluxe cruising experience. Their cruise itineraries focus on providing an immersive destination-driven vacation aboard smaller, modern ships. To learn more about Oceania Cruises or to experience their unique style of deluxe cruising, contact The Cruise Web at 1-800-377-9383.
 

The Cruise Web, Inc.
reply@cruiseweb.com
1-800-377-9383