Recipe: Celebrity Cruises' Chilled Cucumber Yogurt Soup
By Raquel Grinnell, Cruise Consultant, The Cruise Web, Inc.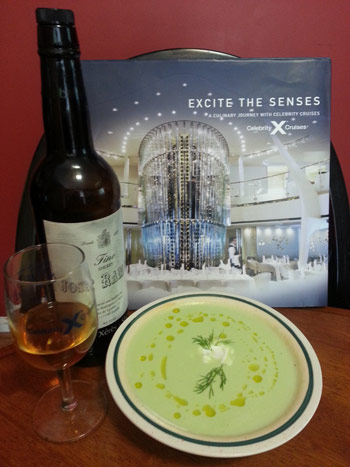 Summer, and especially August, is the time of year when you find the most gorgeous, fresh vegetables and fruits in the farmer's market. Gardens are bursting with sunny tomatoes, crisp peppers, cool cucumbers and all kinds of bright, green herbs. If you have your own backyard garden, I'm sure that like me you find all the plants producing at once and all of a sudden you are inundated with more produce than you can possibly use! Not a terrible dilemma, to be sure, but after all the hard work of planting, weeding, watering and keeping the darned bugs and bunnies out of your plants, you don't want a thing to go to waste. I tend to make a lot of grilled vegetables as a side dish, pastas with sauteed tomatoes, onions, garlic, peppers, zucchini, etc., chop and freeze what we can't eat, and make tons of veggie soups.
Soup, you say? In the summer?!? Oh, yes! Although I am a HUGE fan of soups of all kinds and would happily eat a hot, steaming bowl any time of year, the torrid summer here on the East Coast of the US almost begs us to sip on a refreshing chilled soup. There are many different kinds of cold soup; gazpacho is probably the most well-known. If you haven't heard of gazpacho, it is a cold tomato, pepper and cucumber soup from Spain. Because of the additions of olive oil, vinegar and salt, it has been called "salad soup" by many, including my own children. As soon as summer rolls around and the veggies are farm-fresh and plentiful, the boys and my husband Mr. Fish start begging me to make this wonderful soup (You can read more about Mr. Fish in last month's recipe here: https://cruiseweb.com/blog/2014/07/holland-americas-curried-coconut-risotto-with-shrimp/ ). And I am happy to comply; I've mentioned in past Cruise Web blog stories that my mother is Spanish and I grew up in Spain, so summer just isn't summer without gazpacho, in my humble opinion.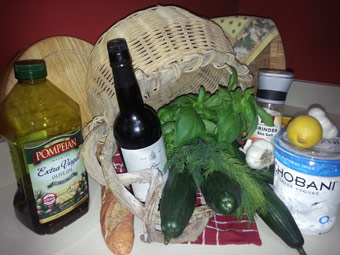 This year I've incorporated other cold soups into my repertoire because, although our tomato plants did well, our cucumbers went CRAZY and we are overrun with cukes! Since you can't cook them or freeze them, they must be eaten as they ripen, which is challenging when they all become ripe at the same time…. So I thumbed through Celebrity Cruises' cookbook called Excite the Senses: A Culinary Journey with Celebrity Cruises and the chefs at Celebrity came to my rescue with an amazing recipe for Chilled Cucumber Yogurt Soup that not only fulfilled my need to use all these cucumbers, but also my three E's of cooking: easy, elegant and economical.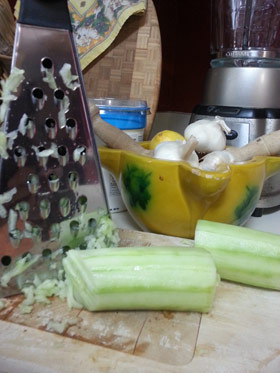 This soup is not only beautiful but quite healthy; it has lots of vitamins and calcium, and very little fat if you use 0% fat yogurt as I did. Because there are so few ingredients in the dish, each must be of the very best quality to really make this simple recipe shine. So please choose the freshest cucumbers available; if you cannot find the long, thin European (or English, as they are more commonly known) cucumbers called for in the recipe, feel free to use your garden variety cucumber. Just make sure to remove ALL the peel and seeds, as they have much thicker and more bitter skin and many more seeds than the European cucumbers. It stands to reason that if you are using the best cucumbers, do the same with the garlic – no withered cloves with brown spots, please – choose one with tightly-fitted white or purple-marbled 'paper' surrounding the head of garlic. Fragrant, bright green Italian or lemon basil and feathery dill should absolutely be fresh as well; dried herbs simply will not do. Please don't use Thai basil as it is very spicy and peppery and will overwhelm the simple flavor of the cucumbers. My lemon was firm, bright yellow and unblemished. A good trick to make your lemon easy to juice is to put it in the microwave for about 15-20 seconds, and then roll it firmly on your kitchen countertop before slicing in half. I also squeeze the lemon into my (clean!) hand held over the bowl to catch the seeds; you can use a strainer if you are fancy…. I used a high-quality brand of fat-free Greek yogurt, but if you have the 2% or full-fat varieties, by all means, use them. They will up the fat and calorie content of the soup, but make it extra creamy and even more delicious, I'm sure – fat tends to do that! Extra-virgin olive oil is the only kind I have on hand, and I would recommend it above all others. I use sea salt instead of kosher, and it worked just fine.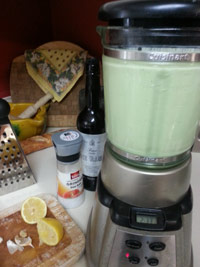 I blended the soup for a good five minutes on high in my blender to get a very fine consistency, and then chilled it in the refrigerator, covered, for two hours before serving. The photo in the cookbook showed that the Celebrity chefs garnish their soup with thin slices of unpeeled cucumber, as well as a sprig of fresh dill…. I went with a drizzle of olive oil and a dollop of the yogurt, topping with a sprig of dill and thought that the soup looked just gorgeous. Next time I might even zest the lemon before juicing and sprinkle it over the yogurt for an extra zing and color.
Chilled Cucumber Yogurt Soup
from Celebrity Cruises' Excite the Senses: A Culinary Journey with Celebrity Cruises
Ingredients:
1/2 teaspoon garlic, fresh and finely chopped
6 European cucumbers, peeled, seeded and grated
2 tablespoons fresh lemon juice
1 bunch fresh basil leaves
2 tablespoons fresh dill weed, chopped
3 cups plain yogurt
2 tablespoons olive oil
2 teaspoons kosher salt
Directions: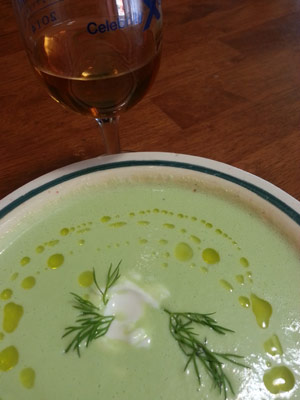 Mix all the ingredients in a blender on high speed until smooth. Serve immediately, or chill in the refrigerator until ready to serve.
The suggested wine pairing by Celebrity is a light Manzanilla, a Fino sherry from Jerez, Spain. Sherry is a fortified wine and Manzanilla is the driest and palest of all the different varieties. Any good liquor store will carry sherry; choose one from Spain and you can't go wrong. DO NOT substitute with a 'cooking sherry' – these are of poor quality and are NOT meant for drinking! Of course, since I'm Spanish, I just HAPPENED to have this lovely sherry already in my bar and the pairing was sublime. The Manzanilla's fresh, delicate flavor complimented the light, almost grassy quality of the cucumbers and the tanginess of the yogurt superbly. This lovely herb-laced soup, along with the sherry, is the perfect choice for the first course of your next summer dinner party. Enjoy!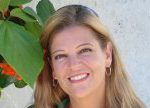 Raquel Grinnell
Cruise Consultant
The Cruise Web, Inc.
1.800.377.9383 ext. 304
raquelg@cruiseweb.com