Holland America's Curried Coconut Risotto with Shrimp
By Raquel Grinnell, Cruise Consultant, The Cruise Web, Inc.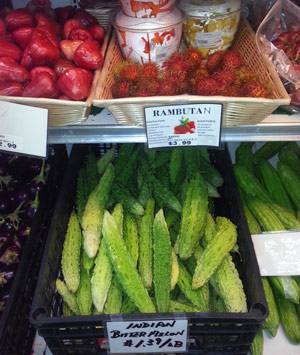 I love to cook. I mean, REALLY love to cook. I find great pleasure in choosing the perfect ingredients, the action of chopping vegetables into a perfect dice, stirring a pot of deliciousness that fills my home with the most amazing smells and of course, savoring the end result. The best part is sharing a meal prepared with love with my friends and family. I feel the same way about travel, and I think that the two are very closely related… Both cooking and a wonderful vacation are a journey in which you experience new and amazing things, usually with the ones you love. Every trip that I've ever taken has resulted in me bringing back a local ingredient that I wouldn't be able to get at home; from homemade Bahamian hot sauce and delectable rum cakes in the Caribbean, to regional cured meats from Germany, to very potent cashew wine from Belize. These local delicacies were used in my interpretation of dishes from each locale, and brought back lovely memories of our travels.
One of mine and my husband Mr. Fish's great pleasures is to cruise and travel as often as possible, which in our opinion is not often enough! (You can read more about Mr. Fish in last month's recipe here: https://cruiseweb.com/blog/2014/06/grilled-snapper-recipe-from-celebrity-cruises/.) Part of the fun is planning our next big adventure, and we never know when or from where the inspiration will strike us. Recently, a visit to an Asian market had us fascinated with ingredients that we've never used before, and that got us thinking about where these exotic dishes came from and, ultimately, where we'd like to travel next… maybe Singapore, or Thailand, or even Vietnam or Korea? There are cruises where we can visit most, if not all, of these countries in one trip! And the cuisine from each is so varied, yet uses many of the same ingredients… ginger, spicy chile peppers, coconut milk, rice, cilantro, lemongrass, garlic. All of these and more were available fresh, frozen or dried at my Asian market and motivated me to try something new. After consulting Holland America Line's cookbook, called Appetizers, I found the perfect foil for my Southeast Asian craving – Curried Coconut Risotto with Shrimp. Since this recipe is scaled to provide appetizer portions, I just doubled all the ingredients and made more than enough for a fantastic dinner for myself and Mr. Fish.
As usual, I didn't follow the directions exactly on this recipe. When making the coconut curry sauce, the recipe calls for you to strain out the spiced combination of garlic, ginger and onions that you have laboriously sauteed for three quarters of an hour (I went a bit longer, about one hour, in order to extract as much flavor as possible). It smelled so heavenly I couldn't bear discarding it, so after I strained the sauce, I kept the fragrant mixture to the side and stirred it back into the risotto when the rice was finished, for an added punch of flavor and some texture. I just happened to have six or seven crabs left over from a crab feast (can you tell I live in Maryland?) and added the wonderful crabmeat to the risotto as well for even more divine seafood yumminess. Other than that, I followed the directions for the shrimp broth, coconut curry sauce, sauteed shrimp and risotto quite closely. While a bit lengthy and requiring multiple pots and pans, this is not a difficult recipe at all, and produced a restaurant-worthy risotto that I was proud to say I made with my own two hands.
Before you start, a few tips: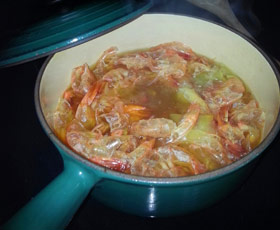 1. If you decide to make your own shrimp stock, as I did, you should make double the amount. I found the amount in the recipe to be lacking and had to substitute chicken stock when I ran out and the risotto was not quite al-dente yet. If you have never made shrimp stock before, just save the shrimp shells from when you clean the shrimp for this recipe, and put them into a pot of water along with the trimmings from your onion and garlic – yes, the peels and all! Use about a cup more of water than the amount of stock you plan on using, place the pot over high heat and let it boil away while you are making the curry sauce. If you are like me and save all your shrimp shells from every meal (I just pop them into a plastic baggie and freeze them for future use), add more shells to produce a stronger and more shrimpy flavor in your stock. Remember to strain the shells and other bits from your stock before using it!
2. A great trick for peeling fresh ginger is to scrape off the skin using the edge of a teaspoon. It removes the skin easily and wastes none of the flesh underneath. In order to make this process easier, I always tend to choose pieces of ginger at the store that are long and cylindrical, with as few knobs as possible.
3. For a thicker curried coconut sauce, use coconut cream instead of coconut milk. It has a more concentrated coconut flavor and you will find that you will spend less time stirring and reducing the sauce. I used unsweetened coconut cream, but honestly, I felt when I made this recipe that the sauce could have used a bit of sweetness, as most curry sauces call for palm sugar or brown sugar for a hint of sweet to balance the creaminess and spiciness of the dish. So, if I had sweetened coconut cream I would have done half unsweetened and half sweetened.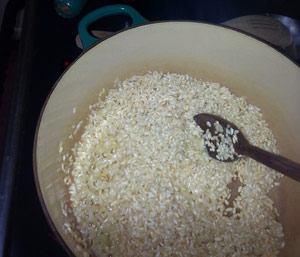 4. The one ingredient that you absolutely CANNOT substitute is the Arborio rice. This short-grained rice from Italy is the most widely used for risottos and when cooked slowly, introducing liquid at regular intervals, it produces a starch that is what makes a risotto creamy. The regular long-grained rice that you use for everyday cooking will not hold up to this process, and will become mushy and ruin the dish.
5. The recipe did not mention adding any oil to the pan when cooking the shrimp; I added a tablespoon or so of olive oil. I'm sure this was an oversight on Holland America's part – if you cook shrimp in a dry pan, they will stick, so don't do it!
Curried Coconut Risotto with Shrimp
Holland America's "Appetizers" from their Culinary Signature Collection, by Rudy Sodamin
Yield: 4 servings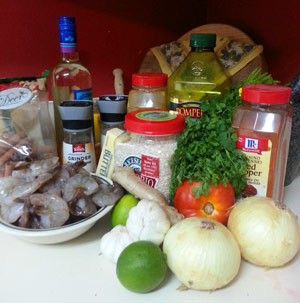 Curried Coconut Sauce:
2 tablespoons vegetable oil
1 1/2 tablespoons curry powder
1 1/2 tablespoons turmeric
1/4 teaspoon cayenne pepper
3 cloves garlic, minced
2-inch piece of fresh ginger, peeled and minced
1 medium onion, finely diced
Sea salt
1/2 cinnamon stick
2 cups unsweetened coconut milk
Fresh lime juice
Freshly ground black pepper
Risotto and Shrimp:
1 to 1 1/2 cups vegetable or shrimp stock or water
1 tablespoon olive oil
2 tablespoons unsalted butter
1 cup Arborio rice
1/4 cup dry white wine
Sea salt and freshly ground black pepper
1 pound medium shrimp, peeled and deveined
1/4 cup chopped roasted cashews
1 pound tomatoes, seeded and chopped
4 fresh cilantro sprigs
Instructions: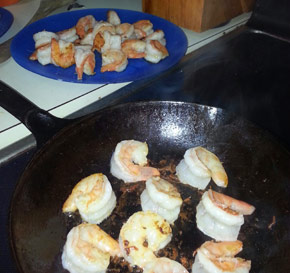 1. Make the coconut curry sauce: In a medium saucepan, heat the oil over medium heat. Add the curry powder, turmeric and cayenne pepper and cook, stirring, until toasted, about 1 minute.
2. Add the garlic and ginger and cook, stirring, for 30 seconds. Add the onion and a pinch of salt. Immediately reduce the heat to low and cook, stirring, until the onions are soft and fragrant, about 20 minutes.
3. Add the cinnamon stick and coconut milk and bring to a simmer, scraping up any browned bits from the bottom of the pan. Cook, stirring, for about 20 minutes. Adjust the seasoning and add lime juice and black pepper to taste. Remove from the heat, pour through a fine sieve, and set aside.
4. Make the risotto and shrimp: Bring the stock to a boil in a medium saucepan. Reduce the heat and keep the stock at a low simmer.
5. In a medium enamel-lined cast-iron casserole or other heavy pot, heat the oil and 1 tablespoon of the butter over medium heat. Add the rice and stir with a wooden spoon for about 2 minutes.
6. Add the wine and cook, stirring constantly, until the liquid is absorbed. Add one third of the simmering stock and cook, stirring constantly, until the liquid is absorbed. Add half of the remaining stock and cook, stirring constantly and shaking the pan, until the liquid is absorbed. Add a bit more stock if necessary, so that the risotto is creamy but still slightly firm in the center, about 25 minutes. Season with salt and pepper. Stir in 1 cup of the reserved curry coconut sauce (save the remainder for another purpose) to finish the cooking. Swirl in the remaining 1 tablespoon butter. Adjust the seasoning.
7. Meanwhile, heat a large skillet over medium-high heat until hot. Add the shrimp and season with sea salt and pepper. Cook, stirring occasionally, until the shrimp turn pink and are cooked through, about 3 minutes.
8. To serve, divide the risotto among shallow serving bowls. With tongs, arrange some shrimp on the risotto. Sprinkle the risotto with the cashews and diced tomatoes. Garnish with the cilantro and serve immediately.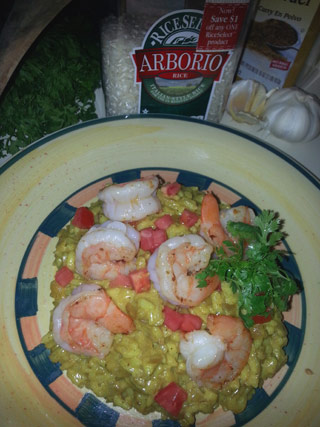 All of the ingredients called for in this particular recipe can be found at any well-stocked grocery store; you won't have to make a special trip to the Asian market. I realize that not everyone is as lucky as I to be located next to a major metropolitan area with lots of ethnic markets. However, if you do happen upon one of these stores, live a little! Walk through the doors and take a peek at what's inside – you will find treasures that you never imagined existed. This is a great opportunity to galvanize your usual repertoire of recipes with something new. Your taste buds will thank you and I'll bet you'll come away with a new appreciation for the country that you represented with dinner, and maybe you'll be inspired to go and visit them!
What inspires you to travel? Is it the unique cuisine of a country? Is it the language, or the music, or maybe shopping someplace new, for something you've never purchased? I look forward to hearing your thoughts in the comments below!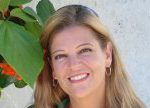 Raquel Grinnell
Cruise Consultant
The Cruise Web, Inc.
1.800.377.9383 ext. 304
raquelg@cruiseweb.com