Adventures in St. Lucia
By Samantha Mahaney, Operations Analyst, The Cruise Web, Inc.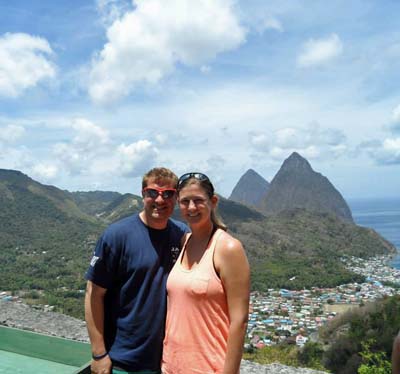 After a year and a half of planning a wedding, there's nothing better than spending a week with your new husband in St. Lucia. We chose St. Lucia as our honeymoon destination because the mountainous landscape and beautiful Caribbean waters were two things we needed to see. We had heard nothing but great things about the history, people, and setting of the island. St. Lucia is also a very popular cruise port and everything we did on our trip is something you can do when your cruise ship stops in St. Lucia.
We spent the first few days unwinding on the beaches that surrounded us. We were amazed by the breathtaking scenery that we had every day and especially at night, where we could enjoy views of the sun setting over the ocean. We live on the East Coast, so this is something we rarely get to enjoy in the evening. We indulged in Jerk chicken, shrimp, and fresh fruit every night, and we washed that down with the famous St. Lucian drinks – rum punch and Piton beer.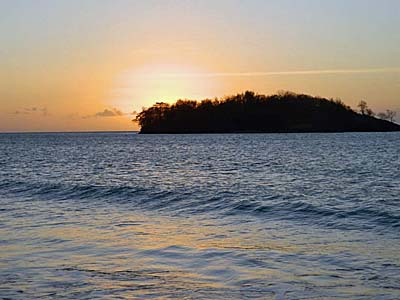 After the "relaxing" days it was time to begin the activities. Our first big adventure was a zip lining trip through the rainforest. At first, we were both pretty nervous – thinking, you're really going to tie us on a wire and expect us to enjoy flying through the trees? Well yeah, this is exactly what happened, and it was remarkable. The zip lining course was comprised of 12 different lines that were all different lengths and speeds. At one time, we got up to 30 mph on the line. We could see creeks and plants from above and a variety of colorful birds flying from tree to tree. The guides were very well trained, and they were able to explain the proper technique to ensure that no one would be stuck in the middle of a line. They were with us at every station and were dedicated to making sure that everyone had a great time.
The next day, we spent all day on a tour of the whole island, which is only 27 miles long North to South. We were in a van with a group of people and a tour guide, driving through the windy and hilly mountains of the island. Stopping at many view points, we were able to get out and enjoy the scenery, see the many banana plantations, and even sample homemade spiced rum. We drove through the town of Castries, Marigot Bay, and the fishing village that sits near an active volcano, Soufriere Bay. We could see all of the famous mountains from Soufriere Bay, including the Pitons, which we would climb the next day. As we kept driving, we stopped to take a quick bath – a mud bath, to be exact. The mud from St. Lucia is said to soften your skin, and is used in spas the world over. Even though it did soften my skin and it was so much fun, this part of the trip was a truly unique experience to my husband and me, as I'm not sure we would cover our bodies in volcanic mud every again. After spending the day learning some history, we got onto a catamaran where we got to swim in the waters (mainly to feel clean again after the mud bath!) and again enjoy more rum punch and Piton beer.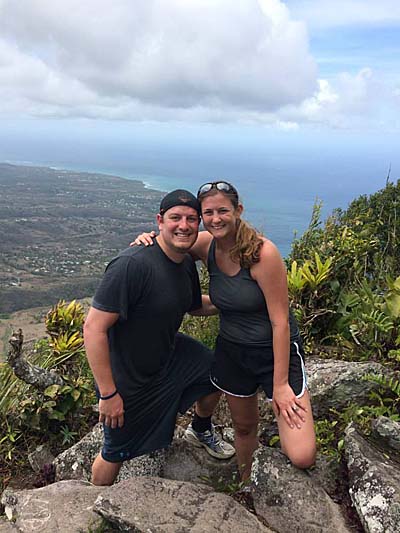 Now you have to understand the extent of what we did the following day. I mentioned the Pitons earlier; these are some of the most famous and hard to climb mountains in the world. Many of the locals we had talked to had told us that they had tried to get to the top of the mountains before, sometimes numerous times, and they did not make it without having to turn around first. But this was a unique opportunity to accomplish something that a lot of people never get to even try. The trail was mainly rock and was 2 miles (straight) up, and 2 miles (straight) down, so it took about 4 hours to complete the trip. Even with all of the dreadful comments that we had heard prior and that we had said to each other on the way up, the view was truly worth every minute! We were up 2,600 feet, and to the right, we could see Soufriere Bay, and to the left were more mountains, including the island's tallest mountain, Mount Gimie, which is just over 3,000 feet high.
If you are looking for a challenge, I would  say to get your heart pumping and take on the Pitons, but that's only if your cruise offers an excursion because this trip takes the better part of the day. For those looking for a more subdued adventure, the beaches in St. Lucia were magnificent. We had a great week learning and touring St. Lucia, and we took some pretty cool photos. Now, back to reality and to planning our next trip, wherever it may be!
Is your next Caribbean cruise stopping in St. Lucia? Please use the comments below to ask me any questions. I'd love to give you some more insight into this tropical paradise.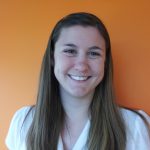 Samantha Mahaney
Operations Analyst
The Cruise Web, Inc.
240.487.0155 ext.386
samanthak@cruiseweb.com