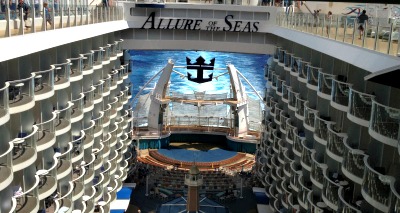 Royal Caribbean announced plans to build a fourth Oasis class ship. The Oasis class are the largest ships in the world at approximately 225,282 tons with 2,700 staterooms and room for 5,400 passengers. The first two Oasis ships, the Oasis of the Seas and the Allure of the Seas, are two of Royal Caribbean's most popular ships, both of which sail in the Caribbean. The third Oasis class ship is scheduled to debut in mid-2016 while this ship, the fourth in the family, is set to debut in 2018.
Royal Caribbean is also moving full steam ahead on debuting a new family of ships starting in November 2014 with the Quantum of the Seas, and then her sister ship Anthem of the Seas in Spring 2015. These two will be joined by a third Quantum class ship debuting in 2016. The Quantum ships are smaller than the Oasis vessels, at 4,180 capacity.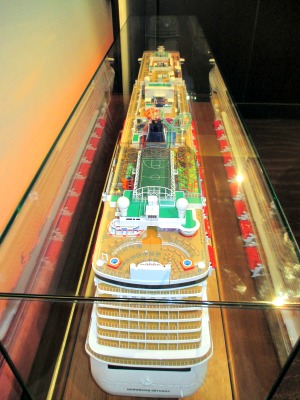 Royal Caribbean isn't the only cruise line with a schedule of new and big ships in the works. Norwegian Cruise Line, which debuted the groundbreaking Norwegian Breakaway in 2013 and her sister ship the Norwegian Getaway earlier this year, will have two more Breakaway class ships in the future. The Norwegian Escape and the Norwegian Bliss will be bigger than their two sister ships. The Breakaway and Getaway are both 146,600 tons with room for 4,028 passengers. These two new ships will hold 4,200 passengers and weigh 163,000 tons. The Norwegian Escape will debut in October 2015 and the Bliss will follow in Spring 2017.
Carnival Cruise Lines'  Carnival Vista is scheduled to arrive in the winter of 2016 with room for up to 5,300 passengers.
MSC Cruises is looking to double their fleet capacity by the year 2022. They  just announced that they have ordered two ships from Fincantieri that will carry 5,300 passengers each. These ships promise to revolutionize the cruise world. The first of the two is scheduled to debut in November 2017 and the second in May 2018. The cruise line is also working with another ship building company, STX France, to build two more mega-ships that will be able to hold 5,700 passengers. These ships are scheduled to be delivered in 2017 and 2019.
Are you a big ship cruiser? What is it about these floating cities that appeals to you?



The Cruise Web, Inc.
reply@cruiseweb.com
1-800-377-9383