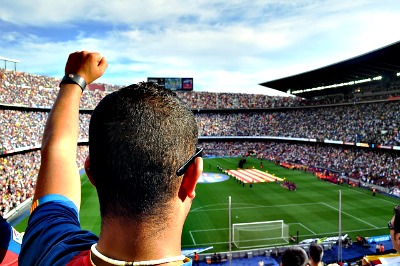 Stop! Don't overlook this blog. I know, I know, why would you care about futbol when there's football, baseball or basketball to watch?
For some reason the world's most popular sport, soccer, doesn't get the same reception from Americans. You should be interested, however, because as you cruise to wonderful destinations in Europe, South America and the Caribbean you'll  learn that many in these countries hold soccer to be sacred, just as you might place the New York Yankees or the Green Bay Packers on a pedestal.
Learning about soccer can also teach you a little bit about a country's economy, and even about their politics. In Spain, for instance, there are two highly popular clubs: Real Madrid and FC Barcelona. These teams are located in the country's two biggest cities, but while Madrid represents the current government of Spain, FC Barcelona represents the progressive Catalan culture. This rivalry goes deep, especially when Franco was ruling over Spain.
Cruise lines are also getting in on the action. Norwegian Cruise Line, Royal Caribbean, MSC Cruises, Celebrity Cruises, Cunard Line and Princess Cruises will be showing many of the matches on their sailings that occur during the World Cup. Some, like Royal Caribbean, will also be adding celebrations to their sailings with the Coca Cola Party at Sea, a scavenger hunt for the kids and souvenir cups for those that purchase the drink package. Princess Cruises will have trivia and other soccer themed contests onboard.
This summer, take a chance at understanding soccer because it will help you learn about the world. In fact, there is a growing population of Americans that is getting into game, and dare we say even like it. The 2010 World Cup final held in South Africa was the highest rated soccer match ever shown on American TV, drawing in 24.3 million U.S. viewers. Now that's nothing compared to the last Super Bowl, which had 111.5 million Americans watching, but here's something to put it into a larger perspective: that 2010 World Cup final had 909.6 million viewers globally.
Here's what you need to know about the 2014 World Cup:
Basics
The World Cup is being held in Brazil this year, with 64 matches held in stadiums all over the country, from Manaus, the capital of the Amazonas state in the North, to Porto Alegre, the capital of Rio Grande do Sul in the South. Stadiums are also in Natal, Rio de Janeiro, Brasilia, Sao Paulo and six other spots.
The first match will take place on June 12 between Brazil and Croatia in Sao Paulo. The final match will take place on July 13 in Rio de Janeiro.
Teams
There are 32 teams that will compete for the World Cup. Those teams, which represent their countries, compete earlier to earn their spot. The host nation's team has an automatic seat, but the other 200 or so countries must duke it out. Each country is classified within a qualifying region and the Fédération Internationale de Football Association, better known as FIFA, the organization behind the World Cup, must determine how many teams from each region can compete. They do this based on the number of the teams in those regions and their relative strengths. Over the two years leading up to each World Cup, the teams match up in order to get to the final 31.
This year's teams are as follows:
Europe: Belgium, Bosnia-Herzegovina, Croatia, England, France, Germany, Greece, Italy, The Netherlands, Portugal, Russia, Spain and Switzerland
Africa: Algeria, Cameroon, Côte d'Ivoire, Ghana and Nigeria
Asia: Australia, Iran, Japan and South Korea
South America: Argentina, Chile, Colombia, Ecuador, Uruguay and Brazil as the host country.
North and Central America + Caribbean: United States, Costa Rica, Mexico and Honduras
Oceania: No teams qualified.
Basic Rules
All the teams are divided into eight groups of four based on a combination of prior seeding and a random drawing. Once grouped, each team then plays the three other teams in their group, earning 3 points for a win, 1 point for a draw and 0 points for a loss. The two teams with the top point totals within each group advance.
The 16 advancing teams are then seeded and compete head-to-head in elimination games. At this level ties are not permitted. This continues until one team is crowned champion.
Soccer Facts
If you plan on watching a game or heading to a cocktail party, impress with these fun soccer facts: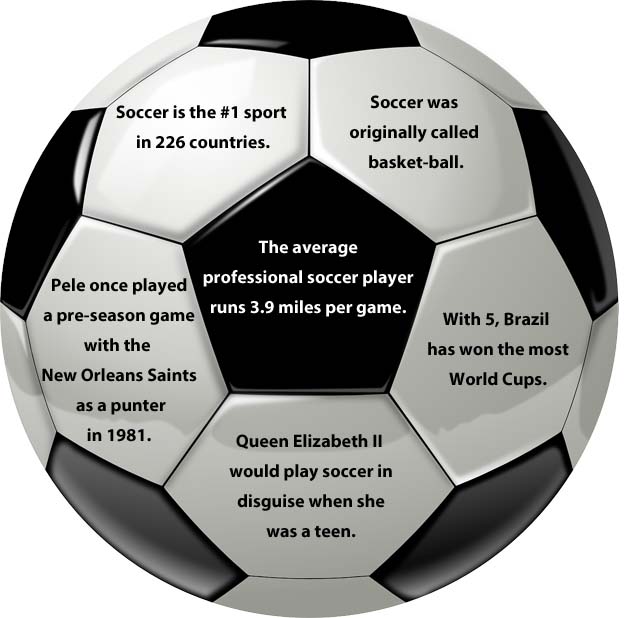 Sources:
http://www.apartime.com/barcelona/fc-barcelona/rivalry-between-barcelona-and-real-madrid.html
http://bleacherreport.com/articles/82112-226-countries-cant-be-wrong
http://www.mlssoccer.com/news/article/2010-world-cup-final-most-watched-soccer-match-us-history
http://espn.go.com/sports/soccer/news/_/id/6758280/least-1-billion-saw-part-2010-world-cup-final
http://www.forbes.com/sites/maurybrown/2014/02/03/super-bowl-most-watched-tv-event-of-all-time-with-111-5-million-viewers/
http://www.sportspickle.com/2013/08/25-soccer-facts-most-american-sports-fans-probably-dont-know
http://www.fifa.com/worldcup/teams/
http://en.wikipedia.org/wiki/FIFA_World_Cup


The Cruise Web, Inc.
reply@cruiseweb.com
1-800-377-9383