The Cruise Web Celebrates Spring with a Potluck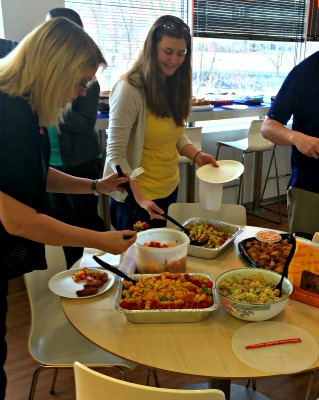 On Thursday, April 3rd, The Cruise Web's employees got together for a "Spring Fling" potluck luncheon to celebrate the (late) arrival of spring. The potluck was a welcome mid-day respite from our busy schedules – a chance to step away from our desks and socialize with our growing Cruise Web team.
As always, the food was great, and the personalities even greater. For instance, while Cruise Consultant Raquel Grinnell was pleasing our palates with her fudge Oreo brownies, fellow Cruise Consultant Eric Davidson wowed the group with his card tricks. By the end of our "Spring Fling," not only were we taking home a few new recipes, we had all learned something new about our colleagues.
Lastly, we'd like to extend our thanks to everyone that contributed to the luncheon, whether by preparing a dish, helping with the setup/takedown or simply adding to the conversation.


The Cruise Web, Inc.
reply@cruiseweb.com
1-800-377-9383