Oceania Cruises' Pomelo Banh Trang Rolls
By Rosalind Smith, Director of Business Development, The Cruise Web, Inc.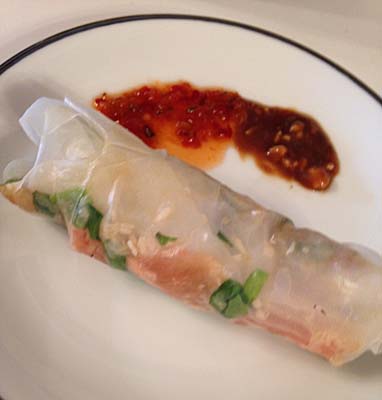 This Oceania Cruises dish mixes banh trang wrappers, which are from Vietnam, with Thai ingredients for fresh bursts of flavor. These rolls are usually served with shrimp, but Oceania Cruises' innovative chef Franck Garanger opted for pomelo to give it a fruity kick.
This dish, while simple to put together, includes a few exotic ingredients that will require a trip to an Asian market. This recipe also requires patience. For my first time working with the delicate rice paper wrappers, I discovered that you need to have a level of finesse to execute an aesthetically pleasing roll. I also learned that it helps to use a lint-free kitchen towel to dampen the wraps.
So let's get on to the flavors — grapefruit, coconut and peanuts combined with mint, basil and shallots, oh my! Think cool and crisp with a zing from the citrus. I will certainly make this again.
I highly recommend you give this a try – even if you have to go through a half dozen rice paper wraps, it's worth it. This recipe makes six rolls, and the best time to eat them is right after they're prepared, so call your friends for a light lunch.
Keep reading for the recipe.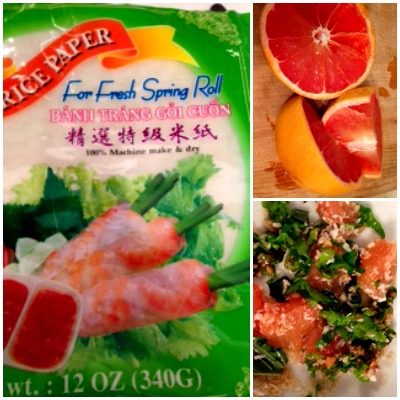 Ingredients:
Miang Sauce
1 and 3/4 cups chopped palm sugar (or you can substitute brown sugar)
1/3 cup water
5 Thai bird chiles cut into thin rounds
1/4 cup and 2 tbsps. chopped toasted flaked coconut
3 tbsps. chopped salted and roasted peanuts
1/2 to 1 and 1/2 tsps. ground dried galangal (or you can substitute ground ginger)
1/3 to 1/2 cup tamarind concentrate
Pomelo Rolls
1 cup pomelo or grapefruit segments
1/4 cup chopped toasted coconut flakes
1 and 1/2 tbsps. chopped salted and roasted peanuts
1/4 cup and 1 tbsp. chopped fresh Thai basil (or sweet basil)
1/4 cup chopped fresh mint
2 tbsps. thinly sliced shallot
6 rice paper wrappers (8.5 inches in diameter)
6 romaine lettuce leaves with thick ribs removed
12 chives
6 Thai basil or sweet basil sprigs
Instructions:
Miang Sauce
Combine the palm sugar and water in a saucepan and place over medium heat. Stir occasionally until the sugar melts (about 5 minutes).
Remove from the heat and stir in the chiles, coconut, peanuts, galangal and tamarind. Start with just 1/2 tsp. of galangal and 1/3 cup tamarind and add more for taste.
Pomelo Rolls
In a bowl, combine pomelo, coconut, peanuts, basil, mint and shallots. Stir together.
Dampen a kitchen towel with luke warm water and lay it on a flat work surface. Place 3 rice paper wrappers on the towel, then layer with another damp towel. Let the wrappers sit for 2 minutes as the damp towels soften the wrappers.
Take 1 wrapper and place a lettuce leaf horizontally across the wrapper, 2 inches from the bottom of the wrapper. Spoon 1/3 cup of the pomelo mixture in a line along the length of the lettuce.
Fold the bottom of the wrapper over the mixture then roll the wrapper away from you and stop halfway. Fold in the sides of the wrapper and fold the top of the wrapper down. Then brush water over the edge of the wrapper to seal it.
Once finished, place under a lightly damp kitchen towel.
Repeat steps 3 – 5 until all the wrappers and filling have been used.
Cut the rolls in half on a diagonal. Slip the ends of 2 chives into the roll. Add the sauce on the side for dipping and garnish each roll with a sprig of basil.
This dish combines the flavors of Southeast Asia in a perfectly light treat that you can use to spice up your routine turkey sandwich at lunch. Let us know what you think of the recipe, and try experimenting with it by adding other ingredients like chicken or substituting a different fruit for the pomelo.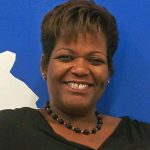 Rosalind Smith
Director of Business Development
The Cruise Web, Inc.
1.888.250.7803
rosalinds@cruiseweb.com