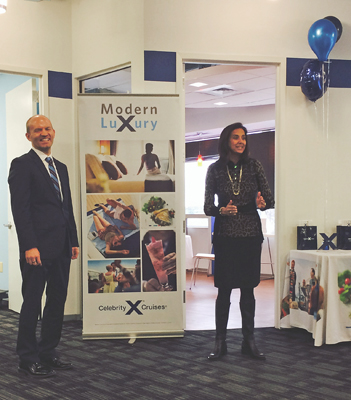 Monday Feb. 10, 2014 will go down as Celebrity Day at The Cruise Web. For on this day we got the full Celebrity treatment. It started when Debra Forrer Roulhac, Celebrity's representative for Maryland & Delaware region transformed our break room into a Celebrity restaurant. We were treated to a wonderful and delicious Italian lunch featuring meatballs and rosemary rolls and baked pasta.
Then later in the day, we were given the pleasure of hearing from Dondra Ritzenhaler, Senior Vice President of Sales at Celebrity. Ritzenhaler came to see our offices and meet our team. She remarked that we have been a key part in spreading the word about Celebrity Cruises and introducing our clients to their sophisticated and chic ships.
While Ritzenhaler had lots of encouraging words for our team here at The Cruise Web, she also announced some of Celebrity's new initiatives.
The brand is continuing their partnership with the hit reality TV show Top Chef by offering four cruises that feature some of the programs' most memorable chefs. And starting in July, 10 ships in Celebrity's fleet will offer Top Chef inspired menu items along with the show's signature "Quickfire Challenges" to entertain guests.
Starting in March, Celebrity is switching their spa vendor to the Canyon Ranch Spa Club. This acclaimed vendor has locations on land as well as spas on Cunard, Regent Seven Seas and Oceania cruise ships. This new partnership will start in March on the Celebrity Century.
For teens, Celebrity has started offering an innovative program called iTake. This allows kids to come up with an idea for a movie. They storyboard their idea and then go all over the ship capturing the scenes they've envisioned with a GoPro Hero 3 high definition video. Then after they've gotten their shots, they learn how to edit them to make a vacation movie like they've never seen before.
Our Celebrity day, this past Monday, was truly the best way to start the week. Thanks again to both Debra Forrer Roulhac and Dondra Ritzenhaler for an incredible day.
So now, are you ready to experience the innovative and sophisticated features of a Celebrity ship, where X truly does mark the spot? Share your Celebrity experiences in the comments below.



The Cruise Web, Inc.
reply@cruiseweb.com
1-800-377-9383