Getaway Gets First GRAMMY Winner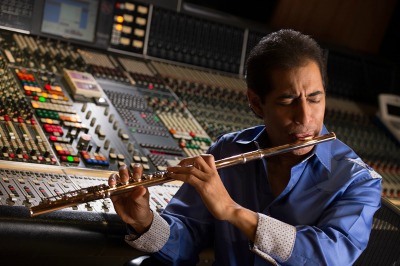 One of the best new partnerships at sea is the one between Norwegian Cruise Line and the GRAMMYs. Norwegian's newest ship, The Getaway, which will make her debut at the end of the month, features a music venue onboard where GRAMMY winners and nominees will perform. This space also serves as a museum with memorabilia from famous musicians from rock, pop, country, rap and more.
The first GRAMMY winner to perform on the ship will be Nestor Torres. Torres is a flautist who worked on 14-albums and won his GRAMMY at the 2nd annual Latin GRAMMY awards back in 2001. His win came for his album titled This Side of Paradise. Torres was born in Puerto Rico and moved to New York City to study at the Mannes School of Music and then to Boston to study at the New England Conservatory.
Aside from his solo work, Torres has also performed with Ricky Martin, Herbie Hancock, Gloria Estefan, Kenny Loggins and Dave Matthews. He is known for playing Charanga, a Cuban dance music.
"It is really exciting to be the pioneer of such a historic venture," Torres said.
Torres will be onboard for the first sailing to the Eastern Caribbean on February 8.
What do you think of this partnership Norwegian has with the organization behind the GRAMMYs? Is it exciting to see top-notch musicians onboard?




The Cruise Web, Inc.
reply@cruiseweb.com
1-800-377-9383