Crystal Gives Internet Perks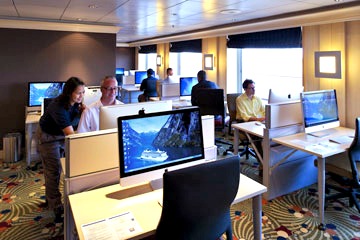 Internet access still hasn't been perfected on cruises. As we've written before, great strides are being made to improve your ability to connect to the Internet while at sea. With each new month it seems there are new initiatives being launched to help improve connectivity at sea.
This month Crystal Cruises, the casual luxury cruise line based out of California, announced that they are giving their Crystal Society past guests 60 minutes of free Internet access each day of their cruise. That equals 600 minutes on a 10-day cruise for both you and your suite mate.
This new initiative takes effect in the Fall, starting on the Sept. 19 sailing of the Crystal Symphony and the Oct. 15 sailing of the Crystal Serenity.
To do this roll out, Crystal has been working hard to upgrade their satellite bandwidth and the Wi-Fi signal range on both ships. Wi-Fi is now available everywhere on the ship, including staterooms and outdoor decks. They have also worked on providing Internet connectivity in destinations that have notoriously proven tricky in the past, like Japan.
The Crystal Society is available to anyone that has been a paying customer of Crystal and sailed on at least one Crystal cruise.
And if all that Internet time wasn't enough, you can add more with a variety of packages including one that charges $.75 per minute.
Do you spend time online when you're at sea?




The Cruise Web, Inc.
reply@cruiseweb.com
1-800-377-9383