Viking River Cruises' Russian Borscht Recipe
By Erica Kritt, Social Media Coordinator, The Cruise Web, Inc.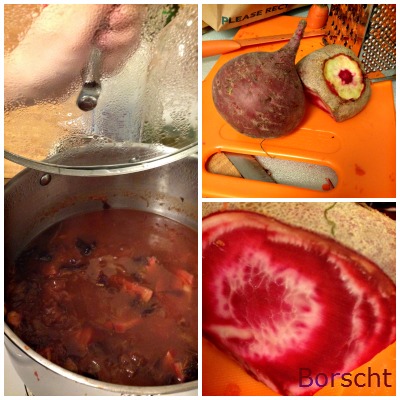 To this day, when I picture my grandmother's house, I see her standing in the kitchen over a giant pot of soup. Whether it was split pea or chicken noodle, there seemed to always be a big vat of  liquid warmth on the stove top that would last for the whole week. My Bubby, which is the Yiddish term for grandmother, admits that she isn't the greatest cook, but she remembers fondly the cooking of her mother, and the borscht she would make.
So to explore my family's culinary traditions I made borscht following Viking River Cruises' Russian borscht recipe. Borscht is a beet soup, which can be served both hot or cold. For this recipe I used beef stock, but my Bubby, who keeps kosher, said you can also make it with water instead of stock so that it's neither a meat or a dairy dish.
The first thing I have to say about this soup is that beets are such a beautiful vegetable. Once you cut into the spinning top shaped produce you see the striking white and purple/pink marbling. The dish itself was also very easy to make. All you do is grate or chop your vegetables, throw them into the heated pot and let it simmer. The hearty smell filled my apartment for days, which was comforting during these cold winter months.
Try this dish out if you are looking for something that is hearty but not heavy. For an added kick, scoop a dollop of sour cream into your bowl, or even a scoop of Greek yogurt would be nice.
Ingredients
2 quarts beef stock
2 cups tomato sauce
2.5 cups shredded cabbage
.5 cup shredded carrots
1 cup sliced onions
2 tsp. sugar
2 cups raw beets, cut into strips
2 tsp. vinegar
.25 cup finely chopped fresh dill for garnish
Instructions
Shred your carrots and cabbage and slice your onions.
Combine beef stock, tomato sauce, cabbage, carrots and onions in a large pot and bring to boil over medium heat.
Add sugar and continue to cook slowly for 20 minutes or until vegetables are tender.
While this is cooking, chop the beets.
Add the beets. Season with salt and pepper to taste and add vinegar.
Cook until beets are tender, about 10 to 15 minutes.
Serve hot or place in the refrigerator for an hour to cool before serving.
Spoon into a bowl or mug and garnish with a dollop of sour cream and the chopped dill.
Because borscht can be served hot or cold, vegetarian or not, it's a great option for nearly everyone and I'm so glad I made this dish, because it did make me feel closer to my great-grandmother and her culture. If you were to cook a dish from your family cookbook, what would it be?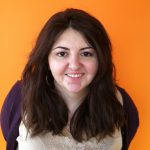 Erica Kritt
Social Media Coordinator
The Cruise Web, Inc.
240.487.0155 ext.360
ericak@cruiseweb.com