Discover Your Roots On a Cruise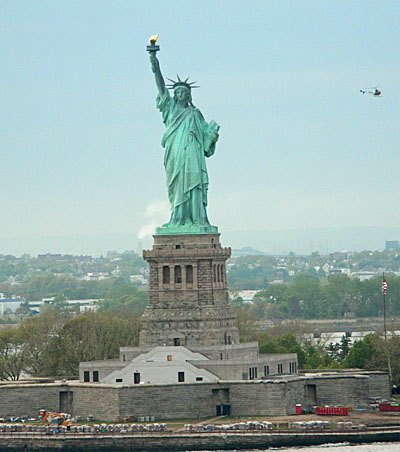 No matter if you immigrated to this country in the last decade or your great, great, great, great-grandfather made the journey, most people in the United States can trace their ancestry to a foreign nation. While being an American makes up a large part of our identities, we also have a pride in our heritage, culture and roots. Each year, Americans take vacations in hopes of tracing their origins back to Europe, Asia and other continents. Come along with us in this post as we point out ways to cruise to cultural highlights of many of your and your fellow citizens' backgrounds. We feature countries where a large number of Americans have stated their relatives come from, according to a 2011 Census report and the country of origin for immigrants from 1830 to 2000. Continue below as we outline how to cruise to your roots.
Let's start with those groups from Latin America.
Over the past few decades, Mexican immigration has boomed, bringing with it many great new additions to the culture, including delicious foods and distinct artistic styles. Many of America's Hispanics also list Puerto Rico as their country of origin, and this beautiful island nation is a U.S. territory and a popular gateway to Caribbean cruising.
Chichen Itza – A Mayan city whose ruins still stand today. This was the center of the empire from 750 to 1200 A.D. and includes the famed Temple of Kukulkan, a pyramid with 365 steps.
Tequila Tour – Taste the powerful alcohol at a local distillery where you'll be able to meet the people who take the blue agave plant and transform it into flavored tequila.
Cruise to Puerto Rico to explore:
Old Town San Juan – Walk along cobblestone streets and see brightly painted buildings and large forts as you learn about this island's history as a Spanish territory and the many battles fought here.
El Yunque Forest – This tropical rainforest is a serene space filled with trails, waterfalls and lush foliage. This rainforest is also where you can see petroglyphs left by the Taino people.
---
A majority of Americans can trace their heritage back to the "Old World" of Europe, particularly the countries of Germany and Ireland. According to the Census report on citizen heritage, more than 48 million Americans identify themselves as descendants of Germans and more than 39 million claim Ireland as their homeland. Many Americans can also trace their heritage back to Italy, England, France and the Netherlands.
Cruise to Germany to explore:
Oktoberfest – For 16 days in late September, Munich is home to one of the world's most popular festivals, where only special local beers are allowed to be served.
The Black Forest – Located in Southwest Germany, this part of the country is famous for their craftsmen who make Cuckoo clocks and it's also known for its hearty food like Black Forest Ham and Black Forest Cake.
Cruise to Ireland to explore:
The Guinness Storehouse – Ireland has a strong pub culture and no drink is more associated with the country than Guinness, a stout brewed in Ireland. A tour of the storehouse uncovers the history of this beer.
The Blarney Stone – This wonderful blue stone was once part of the Blarney Castle, one of many that line Ireland's countryside. Superstition has it that those who kiss the stone are given the gift of gab.
The Roman Colosseum – Explore the past with a visit to this ruin of an amphitheater where Roman citizens came to watch gladiator battles, reenactments of stories from mythology and animal hunts.
Food Tour – Italy is revered for its cuisine which features olive oil, pasta and cheese. In Naples you can experience the birthplace of pizza; Bologna is known for pasta and Umbria for black truffles.
Visit the Pope – For many people their Catholic heritage is a reason to come to Italy. Most Wednesdays the Pope comes out into St. Peter's Square to greet the crowd and lead them in prayer.
Cruise to the United Kingdom to explore:
The Tower of London – Get an idea of the British monarchy at this complex of buildings where Queen Elizabeth was once imprisoned. Here you'll see suits of armor and the crown jewels.
Stratford-upon-Avon – Learn about Shakespeare, the world's greatest playwright, at his home outside of London.
Cruise to France to explore:
Versailles – This extravagant palace summed up the luxury and riches of the French monarchy. This building is filled with incredible sights and a beautiful garden.
Wine Country – The French are known for producing wines coveted by people the world over. You can spend weeks traveling from Bordeaux to Burgundy to Champagne where you'll find lots of wineries to visit and great cuisine to try.
Kuekenhoff Garden – This garden is home to the largest display of tulips in the world. The flower was brought over from the Ottoman Empire and was craved by people the world over creating Tulipmania in the mid 17th century.
Rembrandt House Museum – Learn about one of the most influential painters of all time, along with what life in The Netherlands was like in the 1600s.
---
Eastern Europeans began a major migration to the United States in the late 1800s and early 1900s. Many of the people in these nations sought freedom from oppression and more economic opportunities than were available during this depressed time in Europe, before the First World War. Many of these immigrants came through New York Harbor and were given hope by the sight of the Statue of Liberty.
Cruise to Poland to explore:
St. Mary's Church – This beautiful Catholic Church in Gdansk is the largest brick church in the world. Work on the church was started in 1379.
Jewish Tours – While many sights have been destroyed by wars, many people with Jewish roots still visit the sites of former synagogues and remnants of cemeteries to learn about the home of their ancestors.
The Bolshoi Ballet – Ballet is one of the most revered art forms in Russia. The precision of the athletes and quality of the productions are reflections of Russian culture.
Russian Ethnography Museum – Learn about the cultures of all the peoples that comprised Russia, from the Ukrainians and Belarusians to tribes of the Caucasus.
---
While immigrants from Asia did not flood the country like Europeans, their numbers are now increasing and Asians are currently immigrating to the U.S. more than any other group. As more and more Asians are making their way into the United States you can see their cultural influence in the diversity of Asian restaurants. Once it was just Chinese food, then in the '80s sushi started to gain traction. Now you can enjoy Thai, Vietnamese Pho, Korean Barbecue and much more.
The Great Wall of China – This site shows the ingenuity the Chinese had as far back as the 7th century BC. This wall was helpful in not only protecting the country from attacks and invasions but regulating trade.
The Forbidden City – This amazing complex with more than 900 buildings was the palace during the Ming and Qing Dynasties. Now it's a museum filled with treasures like ceramics and bronzeware.
Cruise to India to explore:
Elephanta Island – This island is a major discovery as it is filled with sculptures representing Hindu stories and gods. It is believed these caves were carved back around the 5th through 8th centuries AD.
The Taj Mahal – A stunning building made of white marble, the Taj Mahal, is considered one of the most spectacular buildings in the world. Built to honor the late wife of Mughal emperor Shah Jahan, it's considered a testament to love.
While heritage can be rooted in a country, it can also cross borders. As we mentioned above, many Catholics enjoy visiting Vatican City, where the Pope lives. There are also popular cruises to Israel that highlight the life and times of Jesus, or discover the ancient Jewish landmarks like the Western Wall. The Middle East and Mediterranean regions also feature some of the world's most beautiful Islamic mosques, including Istanbul's Blue Mosque. In Asia, the Buddhist and Hindu temples and monasteries are also very popular for cruisers looking to learn about the culture of their family.
Cruises provide a great way to explore your culture, and if your ancestor did sail across the Atlantic or Pacific Ocean to make it to the United States, you can sail in their shoes by booking a transatlantic or transpacific passage. Of course technology has made cruising a much faster and more comfortable experience, but it's still interesting to think about how your family made the journey to a new world. For those sailing across the Atlantic, you can see Lady Liberty as she welcomes you home, and think about what it must have been like for your relative to see her standing there with her guiding light.
Of course we couldn't touch on every country, so please fill in our gaps in the comments section. Where are your ancestors from, and what would you like to experience when you visit the land of your heritage?


The Cruise Web, Inc.
reply@cruiseweb.com
1-800-377-9383