Cruise Web Team Donates Food to Local Families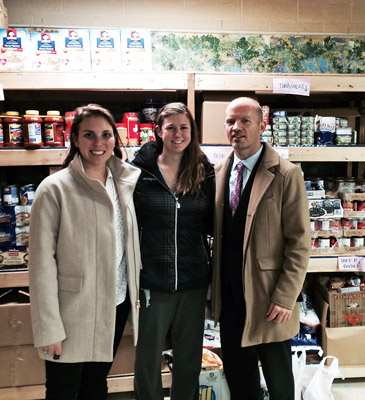 As we gather around our holiday tables to share a meal and memories with our loved ones this time of year, it has become very apparent that many people in America's cities, towns and rural communities are living without the comfort of knowing where their next meal is coming from. That's why this year The Cruise Web teamed up with the College Park Community Food Bank to provide food for those in our area that need a little extra help this year.
The College Park Community Food Bank feeds roughly 700 people a month. Those families that visit the food bank receive food from each food group, along with other items like clothing. For many of the people who use the food bank, getting this extra help affords families some relief. For one week they may not have to make the choice between buying food or paying a bill. When families come into the food bank, they spend some time picking out their food while their kids are engaged in arts and crafts, or reading an exciting book in the facility's library.
The organization is always in need of donations, so for the first few weeks of December our Cruise Web team contributed to the drive, bringing in over 100 lbs. of food like rice, peanut butter, canned tuna fish and other non-perishable items. We also contributed grocery store gift cards for the food bank to purchase perishable items. If you are interested in giving to this organization, check out their website: http://www.collegeparkfoodbank.com


The Cruise Web, Inc.
reply@cruiseweb.com
1-800-377-9383