Taste a Country in One Plate with Oceania Cruises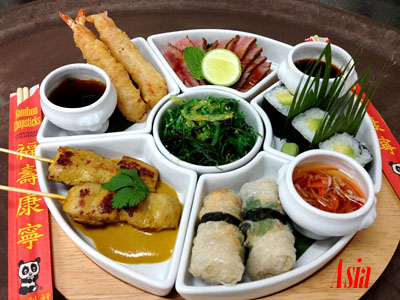 Starting in January 2014, Oceania Cruises will be introducing new lunch menus for the Terrace Cafe and Grand Dining Room. While the full extent of the new menus has not been revealed, this week Oceania unveiled 13 new items, nine of which represent one country's culinary heritage. The other four represent the foods served in regions Oceania ships travel to.  These 13 items can be shared among your party as an appetizer or eaten as an entrée. Each is made up of  six to seven small dishes.
Discover the 13 countries and regions represented with a sampling of some of the tasty dishes that make up these global plates:
Asia

Thai Beef Salad
Avocado Rolls
Chicken Satay

England

Salmon Cake with Tartar Sauce

Yorkshire Pudding

Minced Beef and Onion Pie

Provence

Chicken Liver Pâté with Aubergine in Vinegar

Salad Niçoise with Tuna

Fried Barbajuan with Spinach and Ricotta Stuffing

The Caribbean

Jerk Chicken

Acras de Morue

Avocado and Pineapple Salad with a Passion Fruit Vinaigrette

Turkey
Greece

Lamb Bourekaki

India

Chicken Tikka Salad

Morocco

Beef Kefta with Yogurt Sauce

The Philippines

Pork Spring Rolls

Italy

Cipolline in Agrodolce with Goat Cheese

Ricotta and Spinach Panzerotti

Tomato Mozzarella Stracciatella

Mexico

Fish Ceviche

Empanadas with Salsa Cruda

Scandinavia

Gravlax and Marinated Herring

Spain

Valencia Spinach and Orange Salad

Pulpo Alla Gallega
In your travels, have you ever visited a city, country or region where you thought you had the best food of your life?




The Cruise Web, Inc.
reply@cruiseweb.com
1-800-377-9383