Cruise Web Team Enjoys Night at the Ball Park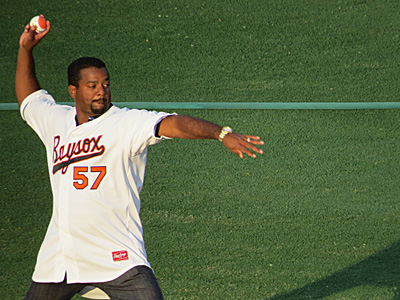 It was the perfect night for a ballgame on August 22 when The Cruise Web had their second annual outing at Prince George's Stadium, home to the minor league team the Bowie Baysox. This game had a special guest, Alfonso Ribiero, best known as cousin Carlton Banks from the hit NBC sitcom Fresh Prince of Bel Air. He threw out the first pitch, sang the national anthem, did an autograph signing and lead a dance contest.
While the game was exciting, most of The Cruise Web staff said it was getting to enjoy the evening with their coworkers that was the highlight.
"Baseball's always fun," Cruise Consultant Lynda L. said. "I really liked hangin' out with my coworkers outside of work in a fun environment."
Senior Cruise Consultant JayCee P. took lots of pictures to document the night and also commented that he got the chance to interact with coworkers in different departments, adding that he "got to know people who work in different departments and in  different aspects of the company in a social setting."
Beth T. who helped plan the event was very happy with the space we got which overlooked the field and had both tables and stadium seats. She said it was spacious yet small enough to facilitate great interactions and conversations.
Making the mingling even more fun was the full barbecue with chicken, hamburgers and hot dogs,  and of course ice cream. Check out our fun time in the slideshow below, with photos taken by Senior Cruise Consultant JayCee Portugal:


The Cruise Web, Inc.
reply@cruiseweb.com
1-800-377-9383