Wine is the Word: Celebrity Nearly Sweeps Wine Spectator Awards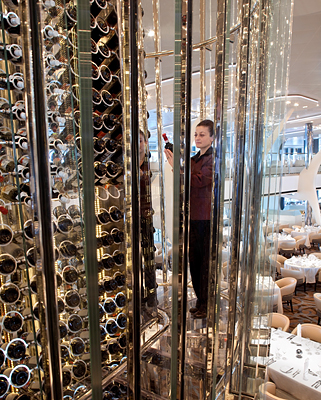 Wine Spectator, which is considered one of the wine world's top authorities and puts out a magazine of the same name, has recently included cruise lines in their annual awards for restaurant wine lists. For 2013, 10 of the 11 awards for cruise lines were awarded to Celebrity Cruises.
The awards are for 10 of Celebrity's main dining rooms on 10 of their ships. Celebrity Cruises features an average of 400 wines on the menus of their main dining rooms. Celebrity's wine selections are reflective of the Celebrity brand, mixing modern with classic features, and of course reflecting the regions to which their ships sail. The menus pair the wines by their flavor profiles, showcasing the wines from mild to bold.
"The same commitment to innovation and authentic guest experiences that drives all of our onboard offerings was at the heart of our approach to creating the winning lists, and it's rewarding to be recognized by such a legendary, highly respected mainstay in the industry as Wine Spectator," Chanelle Duarte, Celebrity's manager of beverage development said.
While all 10 of these Awards of Excellence were conferred on the ships' main dining rooms, Celebrity also has uniquely crafted wine menus in their specialty restaurants. The cruise line also has a wine bar, Cellar Masters, which offers guests a casual place to try out new wines and get advice from the ship's onboard sommeliers.
If you are a wine enthusiasts, we'd love to hear your response about Celebrity's prestigious award. Is wine selection very important when planning your travels? Do you seek destinations like Chile, Australia and Italy that are known for their wines?

The Cruise Web, Inc.
reply@cruiseweb.com
1-800-377-9383