Oceania Cruises Awards The Cruise Web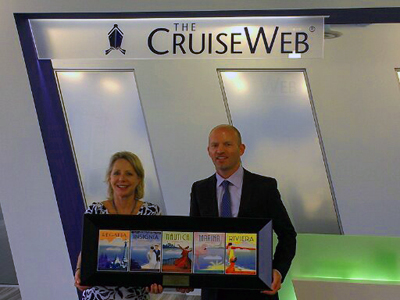 For the second year in a row, The Cruise Web was chosen to be a part of Oceania Cruises' prestigious Cruise Connoisseur Club. This is a special distinction given by Oceania to select top travel agencies in North America that show a commitment to Oceania brand.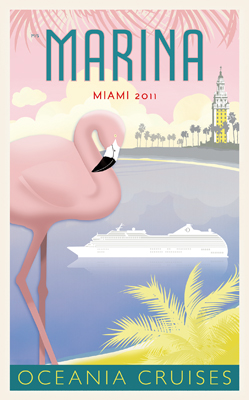 Tina White, regional sales director for Oceania Cruises, presented the award to Cruise Web President Frans Hansen on August 7, 2013 in front of the entire Cruise Web team. Tina praised our consultants  and thanked The Cruise Web for a wonderful 2012 performance with a gorgeous plaque featuring five tiles, one for each of the cruise line's ships (Marina retro poster pictured to the right). Oceania Cruises is celebrating its 10th anniversary this year, which is why this plaque included attractive retro renderings of all five of Oceania's ships. Each plaque represents the debut of each ship into the fleet focusing on the port where the ship was christened.
For the last 10 years, Oceania has established a reputation as a leader in deluxe cruising. Their intimately sized, modern vessels provide an unrivaled travel experience with destination-driven itineraries, personalized service and superb cuisine and wines. Your Oceania cruise is just a phone call away – tell us what you think about Oceania Cruises in the comments below! 

The Cruise Web, Inc.
reply@cruiseweb.com
1-800-377-9383