Holland America Line's Chicken Teriyaki Skewers with Leeks and Sesame Spinach
By Erica Kritt, Social Media Coordinator, The Cruise Web, Inc.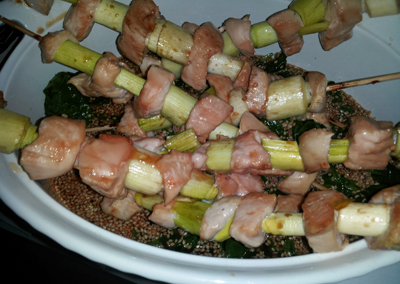 Holland America Line is known for their amazing cuisine. They feature beautifully layered meals and have a culinary center onboard where passengers can take classes to learn how to cook some of their favorite dishes. We at The Cruise Web were given a recipe book by the folks at Holland America and decided to try out one of their tasty concoctions: Chicken Teriyaki Skewers with Leeks and Sesame Spinach.
This dish has a great sweetness to it, and I love the texture that the sesame seeds added to the spinach salad. This is a perfect dish for a summer dinner. It's nutritious and doesn't take a lot of prep work. The spinach adds a nice light crunch to balance out the hearty chicken. After making this recipe I had extra teriyaki sauce, which is perfect to add to a myriad of dishes. I was thinking of even marinating some beef in it.
I hope you try out this beautiful and rich recipe, and thanks again to Holland America Line for providing the recipe.
Ingredients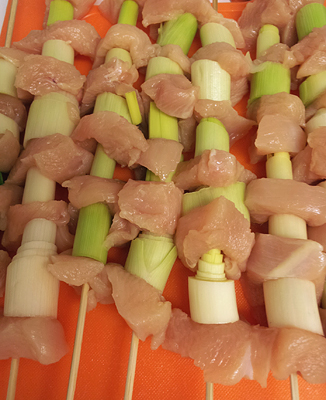 Sesame Spinach
2.5 lbs. fresh spinach
.5 cup  sesame seeds
.5 cup chicken stock
2.5 tsp. sugar
5 tsp. soy sauce
Teriyaki Chicken Skewers
10 bamboo skewers
1  cup soy sauce
1 cup mirin
.5 cup sake
.5 cup sugar
3.75 lbs. boneless, skinless chicken breast halves
1 lb. leeks (white and pale green parts only)
Instructions
Spinach
Bring a large pot of water to a boil and have a bowl filled with ice water. Put the spinach in the boiling water for 30 seconds. Then with a strainer transfer it to the bowl of ice water for 2 to 3 minutes.
Drain the spinach and chop it into 1.5 inch lengths.
In a skillet, toast the sesame seeds over medium heat for 2 to 3 minutes.
Put the sesame seeds in a mortar and pestle and crush them.
Add the chicken stock, sugar and soy sauce to the sesame seeds and stir. When the skewers are done and the dish is ready to be served combine the sesame sauce with the spinach.
Chicken Skewers
Soak the skewers in warm water for 30 minutes.
Preheat an electric grill or broiler to medium/high heat.
Cut the chicken into 1-inch pieces.
Cut the leeks into 1-inch pieces.
In a sauce pan combine soy sauce, mirin, sake and sugar over low to medium heat. Cook until the sugar is dissolved and the sauce thickens, approximately 15 minutes.
Alternate pieces of chicken with pieces of leek as you assemble the skewers.
Grill the skewers  5 to 6 inches over the heat, until the meat is nearly cooked. Which is approximately 1 to 2 minutes on each side.
Brush the skewers with the sauce you made, making sure to leave some for garnish.
Cook the skewers for another 30 seconds on each side.
When done put on a plate on top of the spinach and drizzle the remaining sauce over the dish.
If you make this succulent summer meal please let us know what you thought in the comments section. Did you want more sour to go with the sweetness of the teriyaki, or was it just the right amount of sweetness for you?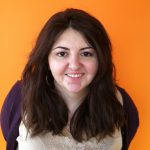 Erica Kritt
Social Media Coordinator
The Cruise Web, Inc.
240.487.0155 ext.360
ericak@cruiseweb.com