The Cruise Web Goes on the Grandeur of the Seas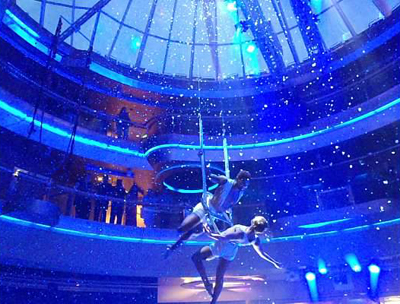 The Grandeur of the Seas is back in Baltimore and Royal Caribbean decided to give the expert cruise consultants at The Cruise Web a sneak peek before guests stepped onboard. The Cruise Web is located between Washington D.C. and Baltimore, making a cruise out of the Port of Baltimore only a half hour away.
For one night, our consultants got a chance to enjoy the food and drinks on the ship, try out the beds and experience the exciting new entertainment options.
"It's a good bang for your buck," Cruise Consultant Rashell O'Neal said. "The ship has lots to do, and for the millions of people who live within driving distance of the Port of Baltimore, you really can't beat this experience."
This 11-deck ship was recently renovated before coming to Baltimore. Built in 1996, the ship's upgrades included new flat screen TVs in passenger staterooms, the addition of five new dining venues including Chops Grille, Royal Caribbean's signature steakhouse, and Giovanni's Table, an Italian restaurant. On the pool deck, the addition of a jumbo movie screen allows for the ultimate way to see a movie (sitting in a jacuzzi).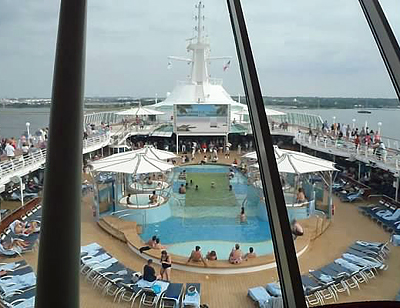 "The pool deck is where it's at," Rashell remarked. "The ship's cruise director really knew how to get the party started. Everyone was on deck for the sail away and then later for a glow in the dark party, where he led everyone in lots of fun dances."
Consultant Debbie Y. really enjoyed the aerial show in the atrium, where acrobats swing, hang and do lots of tricks from fabric hanging from the ceiling. "It was gorgeous," she stated, adding, "since it's in the atrium, you could have a different show each night just depending on where you stand; it gives it a whole new perspective."
Another popular spot was the Casino, which has 190 slots and 11 tables. "I enjoyed the casino," Consultant Shanel W. said. "I won $168 off of $1 dollars."
Overall, all our cruise experts agree the best part of the Grandeur of the Seas was the service. "It was impeccable," Rashell exclaimed.  Shanel noted that her dining room waiter was so attentive and always on hand to fill up her glass and ask if she needed anything.
"It's just nice to see a smiling face and be welcomed on the ship, and even when we were disembarking it was nice to hear their goodbyes," Shanel added.
Now is a great time to experience the Grandeur of the Seas – especially if you live in the mid-Atlantic. To learn more about the ship or find a great deal on an upcoming sailing, contact The Cruise Web at 1-800-377-9383.


The Cruise Web, Inc.
reply@cruiseweb.com
1-800-377-9383