The Cruise Web Celebrates a Decade of Service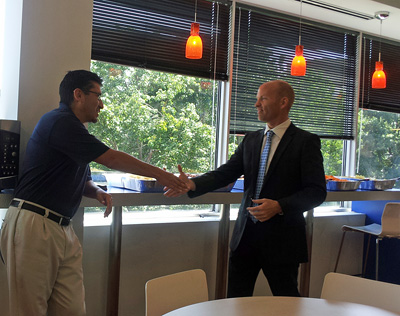 This summer the entire staff was delighted to recognize Senior Cruise Consultant John Herrera for his 10 years with the company. Company Founder and President Frans Hansen was thrilled to share John's contributions to the company and praise him for his hard work, and the dedication he has to his clients and his fellow co-workers.
John loves travel and gets a special kick out of listening to his clients recount their past travels. He has traveled all over the world, and some of his favorite destinations include the beautiful island of Bermuda and Spanish cities like Seville and Barcelona for their rich culture and history.
John has received many accolades in his 10 years, including being recognized for exceptional service by Cunard Line in 2012. John has also been a great coworker while encouraging other consultants and spreading a positive energy. He has also been successful in representing the company on special sailings and at networking events.
To celebrate, the company was treated to the ultimate snack party with a myriad of John's favorite snack foods.


The Cruise Web, Inc.
reply@cruiseweb.com
1-800-377-9383