Oceania & Regent President Kamlani Visits The Cruise Web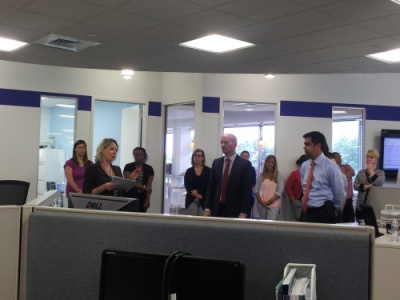 On June 3, 2013, The Cruise Web office received a visit from Tina White (Regional Sales Director Mid-Atlantic/New England Region, Oceania Cruises) and Kunal S. Kamlani (President, Oceania Cruises and Regent Seven Seas Cruises) to discuss 2013 initiatives, our successes during this past year, and some exciting news regarding both cruise lines in the upcoming year. Cruise Web President Frans Hansen (center, pictured above) joined the rest of The Cruise Web staff on the main floor to hear what Kamlani had to say about what Oceania and Regent will feature in the coming years.
Kamlani began with an impassioned speech about what each individual partnership means to these successful cruise companies, stating that 'each time our partners book a client on one of our cruises' they are 'putting them in our hands' to deliver a successful cruise vacation, something that they take very seriously!
Major Refurbishments to Oceania Cruises Fleet
President Kamlani  let us know that soon Oceania's Insignia, Regatta & Nautica would all be significantly refurbished in the near future. This includes the addition of the Terrace Grille and Baristas, among other improvements.
Big News for Regent
Regent Seven Seas' fleet hasn't had major news for a while, so when President Kamlani mentioned that there was something big around the corner for RSSC's fleet, we were very excited to hear about it. The question remains: will this be a major refurbishment, or, is Kamlani hinting at a Regent fleet expansion? We'll have to stay tuned to find out.
Oceania Cruises 'Your World On Sale' Special Offer
Tina White  stepped up to the plate with some fantastic news as well, announcing the extension of Oceania's 'Your World On Sale' special offer. This superb offer (applicable to cruises ranging from 'Sun Splashed Isles' to the 'Classic Mediterranean Cruise') may include some or all of the following:
2-for-1 Cruise Fares*

FREE Airfare*
FREE Pre-Paid Gratuities*
FREE Unlimited Internet Package*
up to $500 Shipboard Credit*
And more!
It seems that Oceania Cruises and Regent Seven Seas Cruises are geared up for a big year in 2013 and moving forward. You can visit our Oceania Cruises specials page if you'd like to view some 2013 and 2014 cruise deals.
What's your prediction for RSSC's fleet? Let your voice be heard in the comments below.

The Cruise Web, Inc.
reply@cruiseweb.com
1-800-377-9383