Father's Day Spotlight: Lawn Club Grill, Celebrity Cruises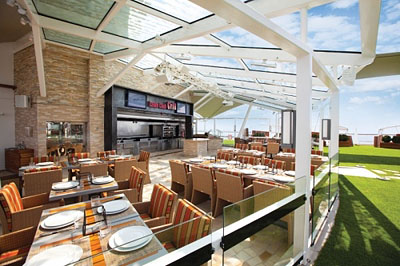 Since dads across the globe will be celebrating Father's Day this weekend, their most special day of the year, we here at The Cruise Web thought we'd spotlight a super cool father feature on board Celebrity Cruises: the Lawn Club Grill.
Every dad is different, but there are countless dads across the world that enjoy grilling, especially with their family. What better way to have an onboard meal on your family cruise than by having the classic father grill session?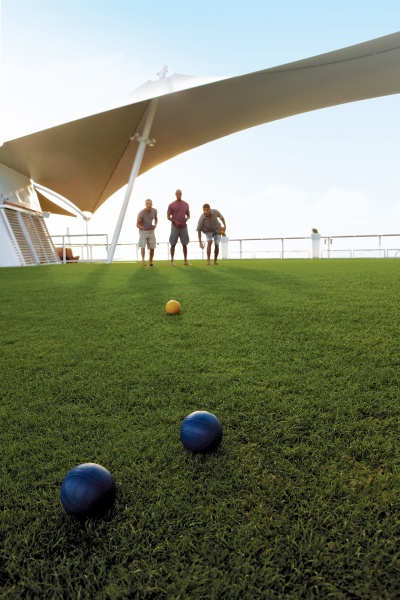 The Lawn Club is a unique area onboard the Celebrity Solstice-class ships which is filled with a half-acre of actual grass—meaning fathers and grandfathers alike can rejoice at the thought of a bocce ball or croquet game at sea. On the Silhouette and the Reflection, Celebrity decided to amp things up a bit with the Lawn Club Grill, a less than formal dining venue with see-through walls, meaning that the restaurant feels like a part of the Lawn Club area outside.
Assisted by the restaurant chef, dad or grandpa (or anyone really) can showcase their cooking chops by creating a flat bread pizza. In the middle of the restaurant, the passenger has the opportunity to prepare the dough and toss it up in the air, much to the delight of everyone watching. Then, the passenger picks the toppings from an array of fresh selections and passes it along to the oven.
As an alternative (or in addition), the make-your-own salad bar is an extremely cool way to spruce up Father's Day and the family vacation. Dads, make your decisions: steak, veal, lamb, salmon, snapper and more can be examined in the glass-door refrigerator, chosen, and then grilled by the passenger (overseen by the restaurant chef). While grilling, the chef will share his tips and techniques and answer all of dad's questions (if need be).
Of course, if dad would prefer to celebrate his holiday or vacation by kicking back and letting someone do the cooking for him, it will be prepared and cooked by the restaurant chef to perfection, leaving ample time to finish up that last game of bocce.
What do you think of our Father's Day spotlight—The Lawn Club Grill? Do you think you would be the one doing the cooking? Tell us what you think in the comments below!

The Cruise Web, Inc.
reply@cruiseweb.com
1-800-377-9383