Cruising to Bermuda: Snorkels, Scooters and Sunsets
By Seth Woodward, Assistant Marketing Manager, The Cruise Web, Inc.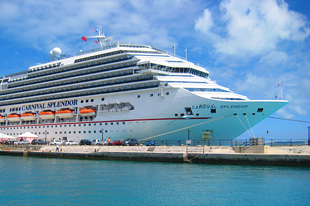 Last April, I had a chance to experience Bermuda on a 7-night Carnival cruise aboard the Carnival Splendor. I had an amazing time and experienced a bunch of 'firsts' along the way, but let's begin with an overview of my itinerary: our cruise departed from New York City on a Tuesday with a direct course for Bermuda. We arrived at King's Wharf in the Royal Naval Dockyard on Thursday morning and spent a total of three days in Bermuda before returning to New York, and reality.
This was my first cruise aboard Carnival Cruise Lines so the two sea days in the beginning of my trip were perfect because they gave me plenty of time to explore the ship. I was pleasantly surprised by just about every aspect of the experience, including the food in the main dining room. I'm not a picky eater so I'm pretty easy to please, but even my friend and the other guests at our dining table enjoyed the various meal options. And Carnival certainly lived up to its reputation for having "Fun" ships with a youthful atmosphere where no one takes themselves too seriously.  But as fun as the ship was, I was itching to explore Bermuda when we made port Thursday morning.
Day 1 in Bermuda:
After fueling up with a hearty brunch, we left the ship and made our way to the pier for our Ultimate Catamaran Swim, Sail and Snorkel excursion (reserved aboard the ship the previous day). We sailed through beautiful coves as our witty tour guide described the island, answered questions and pointed out interesting sights (mainly multi-million dollar homes).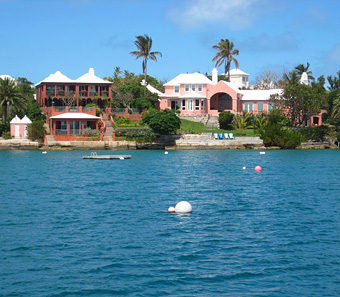 After an hour or so we made it to the snorkeling spot where we received a quick lesson and jumped in. This was my first time snorkeling, so it took a moment to get used to the flippers and all, but it's pretty easy and we were spotting colorful fish and exploring coral reefs in no time. It was only April so the water was kind of chilly, but we stayed in as long as we could. After climbing back aboard the catamaran we enjoyed a complimentary rum swizzle, the official island drink of Bermuda, while the crew raised the sails for our trip back to King's Wharf. Overall, the excursion lasted a few hours and was a lot of fun, so we had no regrets about our choice.
Once back at the pier, we returned to the ship to change and then we went back onto the island to explore the Royal Naval Dockyard by foot. Highlights included an old palm tree-lined courtyard and a group of trees wearing Cosby sweaters. After a bit more walking we found a cool rocky beach off the beaten path where we took a bunch of photos until our dining time approached and we called it a day.
Day 2 in Bermuda: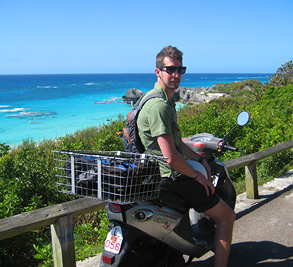 We got an early start on day two and rented a couple scooters from Oleander Cycles, located in the Royal Naval Dockyard (roughly $85 for the day, including gas). We just had to show a valid US drivers license and the shop gave us a quick lesson, watched us ride around the block and off we went. Aside from a few early hiccups (less than ten minutes in I had already run into a boulder and my friend did some accidental off-roading), things went pretty smooth and we eventually found ourselves rounding corners with ease and pushing 50 mph. In Bermuda, the speed limits are pretty slow so most people seem to ignore them, us included.
Without much of a plan, we began riding around the island and stopping at every beach that caught our eye. The sight-seeing was incredible so I pretended like I knew what I was doing with a camera and took as many photos as I could. My pictures really don't do the island justice, but they'll at least give you an idea of how beautiful some of these beaches are: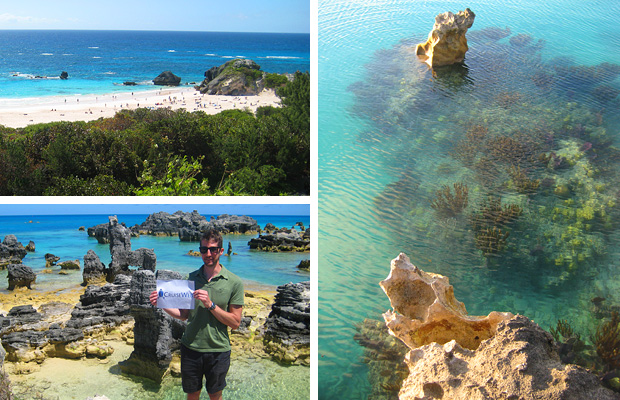 We really liked having the freedom to go wherever we wanted and this ride was the most fun I've had in a while. In all honesty, the scooters might be a little too dangerous for some people, but I definitely recommend this for the adventurous types seeking a fun way to see the island. In total, we spent about six hours riding around and we were able to see most of the island.
After returning our scooters, we boarded the ship and immediately began planning for our next day in Bermuda.
Day 3 in Bermuda: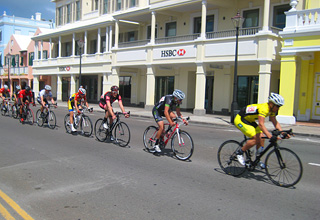 For our third and final day in Bermuda, we decided to finally see Hamilton, the closest thing Bermuda has to a big city. We took the water ferry and arrived in downtown Hamilton only to discover that a Sunday bike race was taking place. We watched the race for a bit and then began to do some exploring on our own. It didn't take long to walk around the city so we quickly found ourselves back on Hamilton's equivalent of a Main Street. However, because it was a Sunday, most of the shops were closed. Fortunately, we found a pub with street-side balcony seating and conversed with the locals while enjoying a few pints and the free wi-fi. It turned out to be a nice way to wrap up our day.
We caught the last ferry back to our ship and said goodbye to Bermuda while enjoying a nice sunset.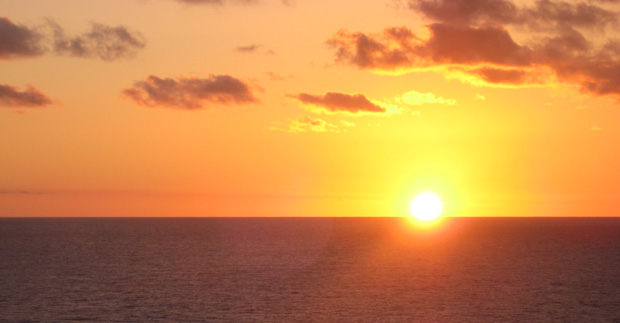 We had two more nights at sea on our return to New York, which we took full advantage of by donating to the casino, loading up on duty-free goods, eating more than we should have and losing every possible category of trivia. It was still a lot of fun, and I wasn't quite ready to re-connect to the real world by the time New York City came into view on Tuesday morning.
Looking back on my trip, I can honestly say that I don't have any regrets about how we chose to spend our time on the island. And given the value and itinerary, cruising was definitely the best way to get there. I urge anyone that hasn't been to Bermuda to add it to your cruising bucket list. For those of you that have already been to Bermuda and didn't have a chance to try any of the experiences mentioned above, maybe it's worth a second trip… or third.
As always, feel free to comment and share your own Bermuda highlights in the comments below.

Seth Woodward
Assistant Marketing Manager
The Cruise Web, Inc.
sethw@cruiseweb.com