The Cruise Web Partners with The Travel Channel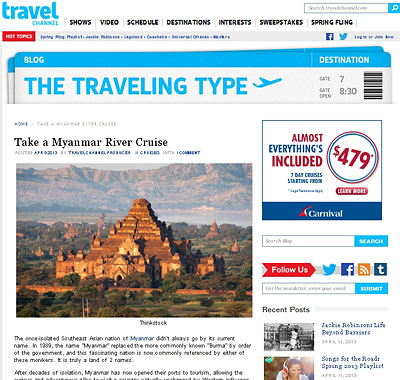 This month The Cruise Web began a partnership with The Travel Channel. Our company will be creating content for their web site, travelchannel.com.
The first posting details the experience of a river cruise to Myanmar. Myanmar is a Southeast Asian nation that is known for its temples and beautiful landscapes. The country is now being rediscovered thanks to easements on travel restrictions. Viking River Cruises will be offering a selection of cruises on the Irrawaddy River starting in January.
"We are very excited and proud to be working with The Travel Channel," Karolina Shenton, Manager of Marketing and Sales Operations said. "We hope to create many interesting and useful articles for them in the future."
You can read the article by clicking this link: http://blog.travelchannel.com/the-traveling-type/2013/04/09/myanmar-river-cruise/

Be sure to leave a comment on the post!




The Cruise Web, Inc.
reply@cruiseweb.com
1-800-377-9383