Princess Kate to Serve as Godmother of Royal Princess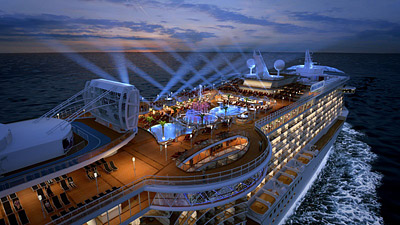 It is fitting that a Royal Princess should serve as godmother to the Royal Princess. It was announced that Her Royal Highness the Duchess of Cambridge, otherwise known as Kate Middleton, wife of Prince William, will christen the ship.
Kate, however, is not entering new territory as her late mother-in-law, the beloved Princess Diana, served as godmother to the original Royal Princess, which was christened in 1984. In fact, nearly all the women of Britain's royal family have christened ships from Queen Elizabeth II to Camilla the Duchess of Cornwall, wife of Prince Charles.
The Royal Princess is set to debut this June and will hold 3,600 passengers, making her larger than any other Princess ship. The ship will feature a wide array of interesting and unique features like the SeaWalk, which is a walkway with a glass bottom so passengers can get an overhead view of the ocean. The ship will also have a tea tower with a tea sommelier, and a fountain show at night.
The ship will begin its inauguration process on June 7, 2013 at the cruise terminal in Southampton. Princess Cruises promises a spectacular ceremony with British pomp and circumstance including a performance by the Royal Marines Band and the pipers of the Irish Guards. The Duchess will name the ship on June 13 and the maiden voyage to the Mediterranean will embark June 16, 2013.


The Cruise Web, Inc.
reply@cruiseweb.com
1-800-377-9383