By The Cruise Web, Inc.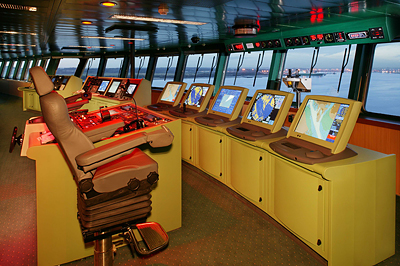 Many cruisers often wonder just what goes on behind the scenes. Who cooks all the food? How does the laundry get done? And where does all the hard work take place? Cunard is now quenching that curiosity by offering their passengers a tour that takes them into the work areas of their ocean liners.
Cunard is just the latest cruise line to offer a behind-the-scenes tour. This feature is already available on Royal Caribbean, Carnival and Princess Cruises. This tour will be offered on all Cunard sailings, but there will only be one tour per sailing, and the tour will only accommodate 16 guests. The tour costs $120 per person.
While on the tour, guests are guided through the work areas of Cunard's ocean liners. They'll visit the engine control room where guests get to speak with the Chief Engineer or a member of the staff. There is a visit to the ship's medical center and one of the most fascinating stops is the area where all the food and provisions are stored. Here you can see the massive quantities and varieties of food that are used throughout each sailing.
The tour also shows the galley where all that food is turned into the gourmet meals and delicious snacks that are served onboard. The tour also offers a behind-the-scenes look at the ship's theatre and a visit to the bridge where you just might get to meet the captain.
If you are interested in going on one of these exciting tours on your next Cunard sailing, make sure to stop by the Tours Office onboard as soon as possible to reserve your spot.
What behind-the-scenes aspect of cruising fascinates you?




The Cruise Web, Inc.
reply@cruiseweb.com
1-800-377-9383