Celebrity Cruises' Take on Fish Tacos
By Rosalind Smith, Director of Business Development, The Cruise Web, Inc.
To go along with our theme of contemporary cruising, I picked a casual and fun dish that you can eat with your hands and is sure to make you smile. I tried these fish tacos on a Celebrity cruise from Vancouver to San Diego and they really do represent California – they are bright, crisp and fresh. It's like sunshine on a plate. Since that cruise, I've made this recipe three times, and each time I switch it up a bit to try new things. I like to stay on the spicier side of life, so I added a bit more garlic and jalapeno. However, with any recipe I recommend making it as  it's intended first, then playing around on your second go round.
To me the key to this recipe is the bright vibrant colors. Use fresh ingredients to get those stunning reds, yellows and greens.
Ingredients
Marinade and Fish
.25 cup extra virgin olive oil
2 tbsp. distilled white vinegar
2 tbsp. fresh lime zest
1.5 tsp. honey
2 cloves of minced garlic (if you're shy)
.5 tsp. ground cumin
.5 tsp. chili powder
1 tsp. Old Bay
.5 tsp. ground white pepper
1 tsp. hot pepper sauce  (to taste)
1 lb. Tilapia fillets cut into chunks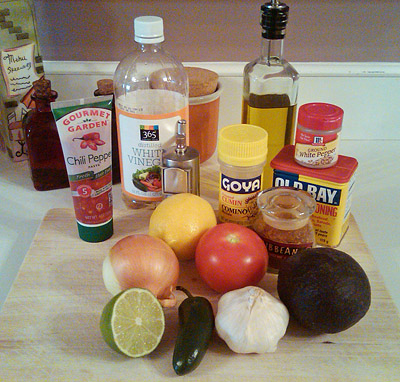 Cilantro Salsa
2 bunches of chopped cilantro
3 vine-ripe tomatoes diced
1 red onion diced
2 jalapeno peppers seeded and chopped
2 tomatillos diced
1 red bell pepper diced
1 green bell pepper diced
1 yellow bell pepper diced
2 tbsp. fresh lime juice
1 tsp. hot chili sauce
kosher salt and cracked black pepper to taste
Topping
1  package of flour tortillas
3 vine ripe tomatoes seeded and diced
1 bunch of fresh cilantro chopped
1 head romaine lettuce
2 fresh limes cut in wedges
Instructions
Marinade
Whisk together olive oil, vinegar, lime zest, lime juice, honey, garlic, cumin, chili powder, Old Bay, pepper and pepper sauce in a bowl.
Place the fish in a shallow dish and pour the mixture over it. Cover and refrigerate for 6 to 8 hours or overnight.
Salsa
Mix all the salsa ingredients in a bowl. Cover and refrigerate for a minimum of 30 minutes before serving.
Fish
Preheat the grill for high heat and lightly oil the grate.
Place fish pieces on the grill for about 9 minutes, turning once. Discard the excess marinade. The fish should be easily flaked with a fork.
Assemble by placing fish in the center of the tortilla with tomatoes, cilantro and romaine lettuce. Top with salsa.
Let us know what you thought of the dish. I, for one, am sold on that salsa. I put it on everything from omelets to veggies and it adds a fun kick to my meals.

Rosalind Smith
Director of Business Development
The Cruise Web, Inc.
1.888.250.7803
rosalinds@cruiseweb.com