Princess Announces New Features for Royal Princess Debut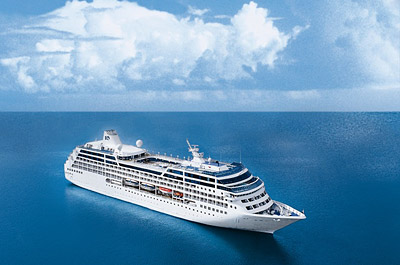 We are four months away from the debut of the Royal Princess. This is Princess' first ship in nearly five years, and has been in the works since 2010. The Royal Princess will be 20 percent larger than any other Princess ship and will feature several new entertainment options and culinary features.
The most talked about feature is the SeaWalk, which is a glass-bottomed walkway that extends 28 feet beyond the starboard side of the ship. This feature will allow guests to experience a feeling of floating above the water as they walk through this stunning passage way. The SeaView Bar will also offer the same glass-bottom floor.
Here are a few more exciting features that will make their debut on the Royal Princess:
Entertainment
On-Demand Stateroom Programming – Just like at home, you can watch hundreds of TV shows and movies from the convenience of your bed, at any time you please.
New Theater Productions – Four new shows will make their debut. The shows are: "Spectacular!" – a production full of color.  "Sweet Soul Music" – a musical journey through rhythm and blues.  "Colors of the World" – an artistic look at the beautiful destinations Princess sails to. "What the World Needs Now" – a tribute to the music of the 1960s.
Art Tours – Princess has 30 pieces of artwork and architecture that are featured on the ship. Passengers can access information about the pieces and the artists by scanning a QR codes at each stop.
Bartending Shows – If you've seen the movie Cocktail you know the thrill when a bartender flips a bottle in the air. On the ship you can catch shows like this twice a day at the SeaView Bar.
Royal Indulgence Package – The spa will feature an all-day experience and other customizable packages. The Sanctuary, which is a relaxing outdoor area onboard, will feature more cabanas where you can get an "al fresco massage."
Movies Under the Stars –Princess pioneered the outdoor movie screen on their ships. The screen on the Royal Princess will be 30 percent larger than their other screens.
Princess Live! – Passengers can visit the ship's TV Studio all day from 8 a.m. to midnight where there will be lots of entertainment like game shows, demonstrations and talk shows.
Water Shows – The ship's pools and fountains will come alive and the movie screen will also get involved to create a magical experience for passengers.
Cuisine
A Tea Sommelier – The center of the ship will have a tea tower where passengers can try pre-made blends or make their own. The sommelier will host tea tastings and a special tea experience inspired by London's hottest tea spots.
Whiskey Flights – Enjoy one of three whiskey flights, where you get to sample three whiskey concoctions.
Gelato Menu – This ship will have more Gelato flavors and options than any other ship, with eight flavors and 20 toppings and sauces.
Italian Bites and Flights – Sample the delicious Italian cuisine from Sabatini's restaurant at Vines, the wine bar. You can pair these sample snacks with a flight of popular wines.
Largest Pizzeria at Sea – This complimentary restaurant will feature pizza, calzones, pastas and flatbreads.
Super Tuscan Wines – More variety of these wines, which defy Italy's wine classification system, are onboard than on any other ship. These wines are also available at Sabatini's Italian Restaurant.
Technology
Daily Digital News – Access the daily calendar of events, weather and port news on your mobile device, courtesy of the ship's intranet.
Face Recognition – Instead of spending time searching for your photo at the ship's gallery you can use a kiosk that will find your photos based on facial recognition. Here you can save favorites and customize your prints.
Accommodations
Special Lounge for Suite Passengers – Passengers staying in a suite can access a special lounge with staff available to help with shore excursions or making reservations at the spa or a specialty restaurant.
Ship Design
Wyland Art Installation – The details are still under wraps, but the famous marine artist, Wyland, is working on a piece that will be displayed on the ship's top deck.
Greenest Princess Ship – This ship has been designed to use the same energy in the hull and propeller as Princess' smaller ships and there are improvements with the laundry system, lighting systems and air conditioning systems.
The Royal Princess will surely be an exciting ship for everyone from first timers to experienced cruisers. After making its debut, the Royal Princess will be sailing itineraries in the Mediterranean for the summer of 2013, followed by sailings in the Eastern Caribbean in the fall of 2013.
Which of these many features entices you?




The Cruise Web, Inc.
reply@cruiseweb.com
1-800-377-9383