Musical & Magical Revelations for Norwegian Getaway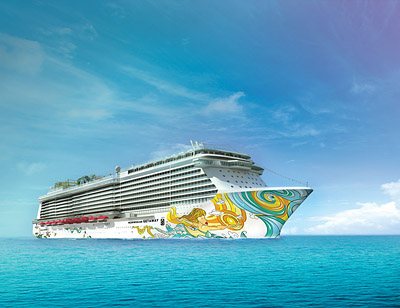 Norwegian Cruise Line is preparing to inaugurate the Breakaway this May, but less than a year after that, the Getaway will make its debut in February sailing year round from Miami. Norwegian is now beginning to announce the features that will make this 4,000-passenger ship unique.
To differentiate the Getaway from its older sister ship, the Breakaway, Norwegian partnered with The Recording Academy to bring the GRAMMY Experience to the ship. This will manifest itself as a special area on the ship where artifacts from musicians and music history will be displayed. At night, this part of the ship will host a nightly performance from a GRAMMY nominated or winning artist and other artists.
The cruise line is also working to create a GRAMMY themed cruise that will set sail in the fall of 2014. Details are not yet available, but check back to The Cruise Web blog regularly for more information and updates.
Another differentiator for the Getaway will be the Illusionarium. This is a dining and theater spectacle that is truly magical. This space onboard takes passengers out of their worlds and into a world of wonder. A 30-foot diameter video dome envelops the space, and the show was designed to reflect the science fiction writing of Jules Verne, magicians of the past, like Houdini, and the supernatural characters featured in modern day movies.
Guests will certainly have the opportunity to experience this one-of-a-kind show on their sailing, as two shows will be scheduled per night.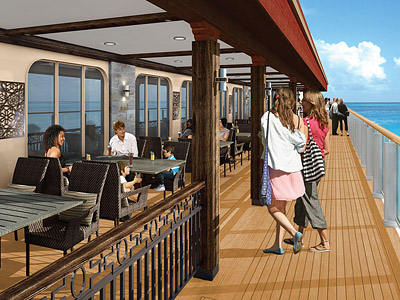 The Getaway will also have a lot of the groundbreaking features that the Breakaway will debut, including:
Fireworks on every cruise.
An Aqua Park with five multi-story water slides.
A three-story sports complex featuring The Plank, a platform that extends eight feet over the side of the ship.
Two adult-only areas: Spice H20 and Vibe Beach Club.
The Waterfront, an onboard boardwalk with restaurants overlooking the ocean.
What kind of GRAMMY winning or nominated artists would you like to see at sea?




The Cruise Web, Inc.
reply@cruiseweb.com
1-800-377-9383