Cruise Web Consultants Attend DC Travel and Adventure Show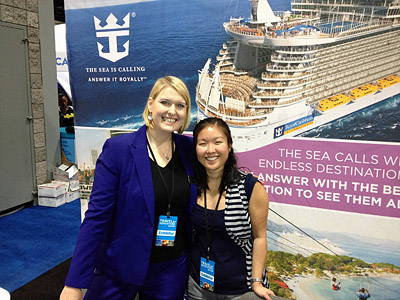 On March 9th and 10th two of our cruise consultants were invited by Royal Caribbean International to participate in the Washington D.C. Travel & Adventure Show. At this expo the consultants were able to meet with curious travelers from all walks of life and explore all the most current and interesting travel options on the market.
The Travel and Adventure Show allowed prospective travelers to find out more about exciting adventures and try some interesting things. For instance, there was a heated pool where you could learn to scuba dive and a rock-climbing wall to test your strength. There were a multitude of speakers who talked about specific destinations and traveling with a specific focus, like culinary or volunteering. There were also autograph signings by Rick Steves, Andrew Zimmern and Arthur Frommer.
Senior Cruise Consultant Jarren Matthews said it was an exhilarating experience. "There were tons of people who were really excited about cruising," he said. He added that it was interesting to see the diversity of travelers; everyone was there, from those who had never cruised, to those that had been on dozens of sailings.
The Cruise Web thanks Royal Caribbean International for inviting us to the Washington D.C. Travel & Adventure Show. It was a great experience.




The Cruise Web, Inc.
reply@cruiseweb.com
1-800-377-9383