Andie MacDowell & Kristin Chenoweth Add Star Power to Cruise Ships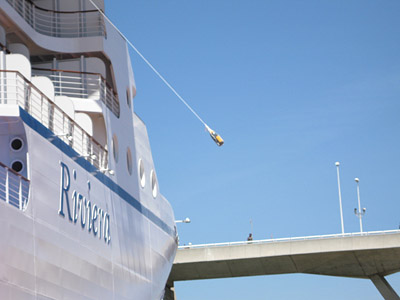 As new ships prepare to take passengers all over the world underneath a sky full of stars, the cruise lines are looking to the stars of Hollywood to shine a spotlight on their brand new ships. This week, southern star Andie MacDowell will christen Uniworld's newest ship, Queen Isabel, in Porto, Portugal.
MacDowell, who starred in hit movies like Four Weddings and a Funeral, Groundhog Day and Multiplicity, is just the most recent famous face to be chosen to serve as godmother to a superb ship. In February, Royal Caribbean announced via a commercial during the Oscars that Kristin Chenoweth, the Tony Award winning actress with a big voice in a tiny body (she's only 4' 11"), would be the godmother to their latest ship, the Quantum of the Seas, which won't hit the water until the fall of 2014.
Norwegian Cruise Line has taken a slightly different path, inviting the Rockettes, those long-legged dancers to serve as the collective godmothers of their New York-centric ship, the Breakaway. Norwegian has been known to feature big stars – the Norwegian Epic was christened by country legend Reba McEntire and the Norwegian Dawn was christened by Sex and the City star Kim Catrall.
Cruise lines ofcourse have looked to other people including scientists and even a foster mom. Oceania Cruises recently choose chef Cat Cora to serve as godmother to their ship Riviera, which was christened in 2012.
If you are looking for truly legendary godmothers, then you can't get any bigger than these three ladies:
Sophia Loren, who is considered Italy's premier actress, is the godmother to MSC Cruises' fleet of ships. MSC is based out of Italy.
Julie Andrews might possibly be the image children have in their heads of the perfect godmother. As Mary Poppins, she made everything go down with a spoonful of sugar and as Maria she taught lots of children how to sing in The Sound of Music. Now she serves as godmother to the Crystal Serenity.
Queen Elizabeth II is the godmother to a ship with a distinct British history, Cunard's Queen Elizabeth.
The oddest celebrity godmothers, in our opinion, are twins Mary Kate and Ashley Olsen who christened Holland America's ms Zaandam in 2000.
If you had a new cruise ship, who would you choose to christen it?




The Cruise Web, Inc.
reply@cruiseweb.com
1-800-377-9383