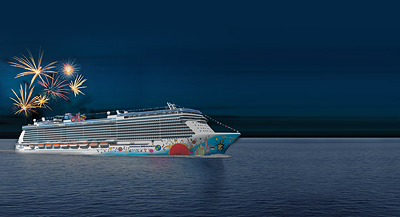 The Breakaway, Norwegian Cruise Line's newest ship, will be introduced in New York this May with new features that are sure to make cruisers excited to sail. As the arrival of the ship gets closer, Norwegian continues to unveil new features for the ship. Two of the latest features of the Breakaway include an electrifying fireworks production as well as the addition of Carlo's Bake Shop, which was made famous from TLC's hit television series, Cake Boss. While you delight in some delicious baked goods, you will also have a chance to drop the pounds because the ship will feature a high-tech indoor cycling studio and Zumba classes for all. As another bonus, Norwegian Cruise Line is updating their excursions in Bermuda and adding exclusive opportunities for Norwegian guests.
Here is a quick rundown of each of these exciting features:
There will be a magnificent fireworks show during each Breakaway sailing. The fireworks will coincide with a 1980's themed deck party, based off of the Broadway show Rock of Ages. The choreographed fireworks will bang to sounds of music like "Cherish" by Madonna and "Purple Rain" by Prince.
You may recognize the name Buddy Valastro, he is the  owner of Carlo's Bake Shop in New Jersey. Buddy's bakery and family ties are featured on TLC's reality show, Cake Boss. The crew is known for their outstanding and over-the-top custom design of cakes, as well as cannolis, cookies, cheesecakes and other delicious treats. This well-known bakery on the ship will allow cruisers to pre- and custom order goodies for any special occasion during their cruise.  Guests can also learn tricks that the boss uses every day during cupcake decorating classes.
Zumba is the exercise/dance craze that has been popular all over the world because it gives you a workout without seeming like one. Beginning in the spring, Zumba dance classes will be offered by licensed Zumba instructors on all Norwegian sailings. Zumba incorporates dance moves from all around the world and music styles from hip hop to Reggaeton.
Flywheel Sports will open a state-of-the-art stadium-style cycling studio on the Breakaway. Flywheel Sports has been gaining traction; launched in 2010, it now has studios in 11 states. The cycling classes let individuals set their own pace but inspire riders to push themselves along to the music. Flywheel will also be featured on the Norwegian Getaway which will be based in Miami.
In order to prepare for the influx of passengers to Bermuda, Norwegian has expanded their excursion options, now offering exclusive experiences like a night snorkel, private boat tour and night fishing to Breakaway passengers. They will also expand their excursion offerings to passengers on the Norwegian Dawn. Those excursions include a dolphin encounter, stand up paddleboarding lessons, a choreographed show that highlights the Bermuda culture and a tour of the West End of Bermuda.
The innovative additions to the Breakaway will be introduced in the ship's first departure out of New York in May, 2013. The new excursions offered for all Norwegian passengers will begin this year and Zumba classes will be offered on all Norwegian ships starting in the spring of 2013. The Breakaway will sail to the Bahamas, Bermuda, Southern Caribbean, and across the Atlantic Ocean throughout 2013 and 2014.
Make sure to contact The Cruise Web for more information on this ship and its itineraries.




The Cruise Web, Inc.
reply@cruiseweb.com
1-800-377-9383