The Cruise Web's Chili Cook-Off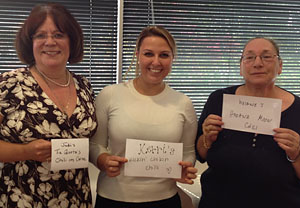 Cue the western showdown music. Watch as a tumbleweed goes bristling across the vast open desert. That will help you feel the tense mood  in The Cruise Web's break room this past October when three of our employees battled it out in our first ever Chili Cook-off.
Keep reading for our winning chili recipe.
The contenders – Judi D. with a hearty "Chili Con Carne," Kerri N. with her non-traditional "Kerri's Kickin Chicken Chili" and Viviane T. with her sweet "Caribbean Moon Chili" – stood in separate corners of the room, each with a crock-pot nearby and a ladle in their hand. The break room was abuzz with employees tasting the three chilis, listening to the chefs explain their techniques and finally voting for their favorite.
It was clear that the decision on each ballot took some real thought and occasionally an extra sample.  Quite often, there was a difficult decision to select between two entries that appealed to the taster. But, as in all duels, there is only one winner and that winner was  Cruise Consultant Viviane T.
Here is her recipe for Caribbean Moon Chili, which serves between 4 to 6 people.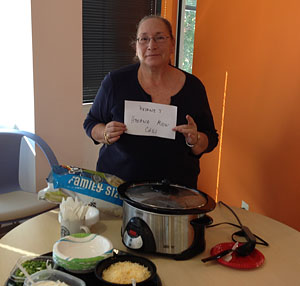 Ingredients:
2 tbsp. vegetable oil
1 large chopped onion
3 cloves chopped garlic
1 chopped chipotle in adobo sauce
2 lbs. of meat (can be a combination of 1 lb. pork or 1 lb. ground turkey or 1 lb. ground chuck or can be 2 lbs. ground chuck)
kosher salt
freshly ground black pepper
14.5-ounce can beef broth
1 cup beer or non alcoholic Malta
28-ounce can chopped tomatoes drained (save the juice)
2 tbsp. balsamic vinegar
1/3 cup yellow raisins
2 tbsp. chili powder
1 tsp. ground cinnamon
1 tsp. ground cumin
1/2 tsp. ground allspice
1/4 tsp. ground cloves
1 tsp. ground coriander
1 tbsp. cumin seeds
2 tbsp. espresso powder
2 tbsp. unsweetened cocoa powder
1 tsp. Chinese 5 spice powder
2-3 cans black beans (or use a mixture of red kidney, cannelinni and black beans), drained and rinsed
Instructions:
Heat 1 tbsp. of  vegetable oil in a Dutch oven. Stir in the onion and garlic, season with salt and black pepper.
Add half the dry spice mixture until you start to smell the fragrance of the spices.
Add chopped chipotle and cook until onions are soft.
Remove vegetables to a separate bowl.
Add 1 tbsp. vegetable oil to the pot and cook the meat, season with a little salt and black pepper, add cumin and cook until browned. Drain off the excess fat in a strainer.
Put drained beef back in hot pot, add sautéed vegetables, beef broth and beer (or Malta), stir to bring up the brown bits and boil until almost completely reduced, add chopped tomatoes .
Stir in the beans, vinegar, raisins , espresso, cocoa powder, remaining spices, and salt to taste.
Put everything in a crock-pot on low for 8 hours.  Or bring to a boil in the  pot.
Reduce the heat to a simmer and cook 30 minutes, partially covered.
Add remaining tomato juice if it looks dry.
Uncover and cook for 30 minutes more.
It's better to cook it the day before and refrigerate it.
Do you have a winning chili recipe? Share it in the comments section.


The Cruise Web, Inc.
reply@cruiseweb.com
1-800-377-9383