Norwegian's 'Breakaway' From the Norm
By Austin Gambino, The Cruise Web, Inc.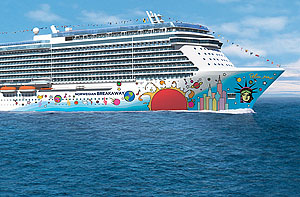 Norwegian Cruise Lines introduced another innovative feature for their next ship, the Norwegian Breakaway.  This time the announcement was very colorful… literally. The new ship will feature signature hull artwork by Peter Max, one of America's most acclaimed living artists, who is renowned and respected across the US for his bright and bold paintings.
"The artwork is a composite of New York City and cosmic imagery," Max said, "the Statue of Liberty, the Manhattan skyline, a giant sunburst, planets, stars, and musical notes.  That's my New York!  And now the Norwegian Breakaway is my New York cruise ship 'canvas.'"
Kevin Sheehan, Norwegian Cruise Line's Chief Executive Officer, claims that the Breakaway is 'New York's ship' and that the original artwork on the hull will make it 'an instant icon.'  The Breakaway, which will homeport in Manhattan, will cruise through the big city almost every weekend.  The 40,000 square feet of art includes the head of the Statue of Liberty, a colorful skyline and a massive sunburst, among other things. Peter Max even added in some musical notes referencing the storied history of music that has come through The Big Apple.
An absolute legend in pop art, and the art world in general, Peter Max is a German-born Jewish American graphic artist.  His bold and bright work spread like wildfire through college dorms and walls across America in the 1960s.  Since the '60s, Max has become a household name, his work has been licensed by 72 corporations and was featured on the cover of Life. Max was also the official artist of the 2006 US Olympic Team, as well as the subject of one of the best-selling art books ever—The Art of Peter Max.


The Cruise Web, Inc.
reply@cruiseweb.com
1-800-377-9383