Luxury Shower Will Make You Feel Like a 'Celebrity'
By Austin Gambino, The Cruise Web, Inc.
Courtesy of  Celebrity Cruises.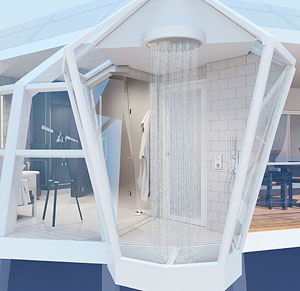 Ever imagine piping hot water streaming down upon you while you cruise along the serene ocean? Probably not, but Celebrity Cruises has, considering their new offer on the Celebrity Reflection's Reflection Suite. This suite will boast the first of its kind all-glass shower, which is perched out over the ship's edge.
The new suite, which includes the shower, will ensure that the passenger feels like a superstar.  This two-room suite is 1,636 square feet and has a 194 square foot veranda to top it off.  The elegant sea-view bathroom has what has been called a "soothing rain shower" and the suite as per usual includes 24-hour European-style butler service.
But of course, the most important question is:  how to protect the privacy of those using this innovative shower?  Lisa Lutoff-Perlo, Celebrity's Senior Vice President of Hotel Operations, made quick work of that question in an interview, stating that passengers "can enjoy breathtaking sea views while discreetly showering, courtesy of the shower's special reflective glass, but can also activate the shower's  'smart glass' technology for additional privacy."
If you have no idea what smart glass is, you are not alone.  Welcome to the future; with simply the flip of  a switch, suite guests are able to activate an electrochromatic technology which immediately makes the glass translucent (similar to quartz, in which light still goes through, but it is not visible).  These technician/magicians also installed a special sensor that can enact the translucent glass automatically.  Modern luxury indeed.
Is this a feature you would like to try, or is it a little too risque? Sound off in the comments below.


The Cruise Web, Inc.
reply@cruiseweb.com
1-800-377-9383