Inside Access On an Alaska Cruise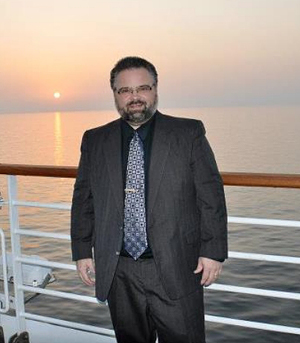 The Cruise Web is working with Barry Vaudrin of Cruising Authority to give our cruisers an inside look at an Alaskan Cruise. Barry, an avid cruiser and videographer, will be on board Holland America's ms Oosterdam for a week this month. The cruise will be roundtrip from Seattle, stopping in Ketchikan, Juneau, Sitka and a few more ports.  While on board, Barry will be interviewing officials as well as showing you the ports and the spaces aboard the ship.
So while we await Barry's first report back, let's get to know him a bit better. Keep reading to find out Barry's thoughts on cruising and to see his first video, which he filmed at The Cruise Web's offices.
The Cruise Web:  What is it exactly that you do?
Barry: I'm basically a cruise journalist. I put together multimedia reports that include audio and visuals about my cruise experiences.
TCW: Why cruising?
Barry: My interest in the cruise industry started after a family vacation in Long Beach, California. We stayed on the Queen Mary, which really acted like a floating hotel – it didn't move while we were there, just sat offshore. That was back in 1977. Being on that ship,  I developed an interest in ocean liners and that developed into an interest in cruise ships. Now I have a real passion for the cruise industry and oceans.
 TCW: How many cruises have you been on?
Barry: I've been on about 300 cruises and I've been all over the world on cruise ships, except Australia. I haven't done a world cruise yet, I'd like to do a world cruise one day.
TCW: With such experience with the cruise industry, what do you see for the future of cruising? Any trends?
Barry: I think activities are going to be more diverse. Years ago they used to say a cruise is just like a resort at sea. Well today ships like Oasis of the Seas are indeed resorts at sea. Actually, ships aren't 'like' resorts anymore, they are resorts.  They have more to offer and they're bigger. I don't think the ships are going to get much bigger than the Oasis of the Seas. They are going to be more refined with more activities, dining and things to do on the ships that we don't have today.
Another trend we might see is more unique itineraries. The cruise industry has been all over the world, but I think we are going to see more cruises going to exotic destinations – places like Antarctica, South America and Iceland. More and more cruises going to these unique places.
Get a glimpse of Barry in action in the video below and stay tuned to this blog and our facebook page for Barry's videos and cruise updates.


The Cruise Web, Inc.
reply@cruiseweb.com
1-800-377-9383