6 Interesting Classes to Take On a Cruise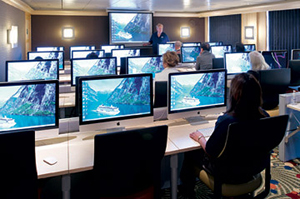 While you might take a vacation to clear your head and relax completely, you can also take a cruise and fill your brain with new knowledge,  learn new skills or brush up on your favorite topic. Luxury, Premium and Specialty cruise lines are continually growing the number of courses they offer and increasing the range of subjects those classes cover.
Traditionally, cruise lines have always invited guest lecturers and performers onboard. Now, however, you can go beyond listening to a lecture on an interesting topic to getting in depth with the topic and  creating something with your hands. To supplement the growth in classes, cruise lines have added enrichment centers with brand new state of the art equipment to give their passengers the most advanced educational experiences.
Read on to discover six of the most interesting and inspiring classes to take on your next cruise.
Class: RADA Acting Workshops
Line: Cunard Line
Ever dreamed of seeing your name in lights? Well the first step for most actors and actresses is a stop in drama school. On Cunard you can get a crash course for free, offered by the ship's performers, who are all involved in England's Royal Academy of Dramatic Arts, which was the stomping grounds for actors like Vivien Leigh, Kenneth Branagh and Ralph Fiennes.
Class: Cook Like a Professional: 10 Techniques That Will Have You Cooking at Home Like a Professional
Line: Oceania Cruises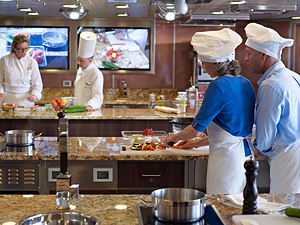 A definite perk of a cruise is eating some of the most exotic and interesting foods on the planet, but did you ever wonder how to make those foods at home? Oceania Cruises seeks to educate its passengers by teaching them to cook some of their favorite ship snacks and meals in their fully equipped Bon Appetit Culinary Center. This class in particular teaches  you the culinary basics that will get you ready to whip up meals like a pro at home.
Class: Navigation@Sea
Line: Princess Cruises
Ever been on a cruise and wonder just how the ship stays afloat? Or how the captain is able to navigate without highway signs or marked lanes in the ocean? Well then this class is for you. Princess takes you behind the scenes showing you how a ship makes its way through the ocean. This course also includes a historical overview of navigation along with cruise terminology.
Class: Digital Filmmaking: The iPad iMovie Video Course
Line: Crystal Cruises
Crystal Cruises has a whole set of classes to get you up to speed with all the things possible in the digital world. This is the line's latest course and gives you the opportunity to not only take home magnificent pictures of your trip, but create professional level videos of your time away.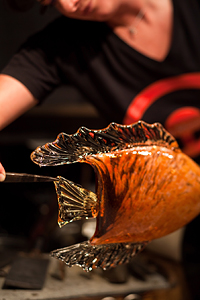 Class: Hot Glass Show
Line: Celebrity Cruises
Celebrity has partnered with the Corning Museum of Glass in New York to show cruisers the art that goes into creating glass bowls, vases and sculptures. This is one of many classes that Celebrity offers to inspire their cruisers to create something with their hands. Celebrity also offers painting, jewelry making and pottery classes onboard.
Class: Ice Carving
Line: Holland America Line
Holland America teaches its passengers skills that they can take from the cruise ship and bring to their life on land that will remind them of the fabulous experience of their last cruise. Ice carving, flower arrangement, cake decorating and garnishing classes all provide you with at least one skill to enhance your next party.
Which of these classes will have you sitting in the front row, ready to go, with a sharpened #2 pencil?




The Cruise Web, Inc.
reply@cruiseweb.com
1-800-377-9383