The Cruise Web Honored by Oceania Cruises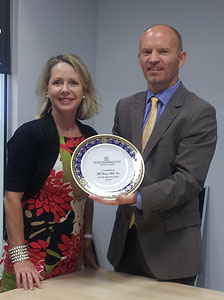 On July 3, 2012, The Cruise Web was presented with a commemorative plate to welcome the company to Oceania Cruises' prestigious 2012 Cruise Connoisseur Club. The honor was to acknowledge The Cruise Web's contribution to Oceania Cruises' success in 2011 and 2012.
"We deeply appreciate the outstanding support of Oceania Cruises that you've demonstrated and we're delighted to be able to recognize you in this new and exciting way," said Kunal S. Kamlani, President of Oceania Cruises, in a letter to The Cruise Web's President, Frans Hansen.
Oceania Cruises is a deluxe cruise line that has continued to grow each of the past few years. In May, Oceania christened the Riviera, its fifth ship. The cruise line also added the Marina in 2011 and refurbished the Insignia and Nautica in 2010 and the Regatta in 2011.



The Cruise Web, Inc.
reply@cruiseweb.com
1-800-377-9383