Seabourn Announces Guest Speakers for World Cruise
Courtesy of Seabourn Cruise Line.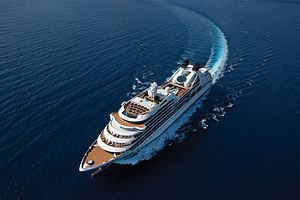 Seabourn has recruited a diverse and expert team of guest speakers to entertain and inform passengers on their upcoming 2013 World Cruise on the Seabourn Quest. The sailing leaves from Ft. Lauderdale in January and reaches its final destination of Venice, Italy in May. In between, the ship will visit Australia, India, the South Pacific and countries surrounding the Mediterranean Sea.
The eleven speakers scheduled to appear include doctors, professors and experts like the  first guest speakers,  Dr. Michelle Craig McDonald and Dr. Roderick McDonald, both of whom are professors and authors who specialize in Caribbean history.
For a little laughter, passengers will be treated to the comedy of Rita Rudner, the American Comedienne who has appeared in dozens of TV shows and comedy specials. Rudner has spent the last few years performing mostly in Las Vegas where she has sold over 1 million tickets to her comedy show.
Other notable guests include  Dr. Norman Caisse, speaking to passengers about his experience as a NASA engineer and astronomer, and Farhana Qazi, an international relations analyst and expert on Middle Eastern political conflicts. Also slated to speak is Christopher Buckley, who has written a dozen books which are mostly satirical looks at politics, including Thank You For Smoking, which was made into a film starring Aaron Eckhart and Robert Duvall. Buckley's father, William F. Buckley Jr., was a notable conservative author who created the magazine, The National Review.
These guest speaker events are held in addition to the regular on board entertainment, such as quiz shows, dancing classes and classical music revues that are scheduled throughout the cruise. For those who cannot take the time to sail the world, Seabourn does offer travelers the chance to sail for portions of the itinerary.


The Cruise Web, Inc.
reply@cruiseweb.com
1-800-377-9383