Holland America Receives Honor for Environmental Leadership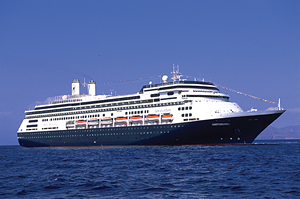 Holland America was awarded with the gold 2012 Rear Admiral William M. Benkert Environmental Protection Award for their leadership in environmental stewardship in May. The award comes from the U.S. Coast Guard and honors outstanding achievements in marine environment protection.
Holland America Line has been committed to reducing their carbon footprint by using as little fuel and water as possible and managing their solid waste stream. The line's latest initiative has been to purchase only sustainable seafood, which ensures that aquatic ecosystems are not dramatically damaged or destroyed.
"At Holland America Line we recognize that environmental stewardship is a daily responsibility, and we are continually seeking ways to enhance and extend our initiatives," said Stein Kruse, president and CEO of Holland America Line. "We are honored that the U.S. Coast Guard acknowledged our efforts with a second Benkert Award."
This month, Holland America,  in partnership with the Marine Conservation Institute, awarded research grants  to students interested in marine ecology. The grants  support the work of promising scientists and graduate students who study the history of ocean ecology to predict future impacts from human interactions.
This year's recipients will be working on very diverse projects, from examining the Weddell seal, which resides in Antarctica; to exploring the pre-historic exploitation of the Mediterranean Sea.  There were four winners picked out of 91 applicants.
"We are proud to be advancing the science of marine conservation biology and historical marine ecology by supporting these efforts to better understand the history of our oceans," said Dr. Lance Morgan, president and CEO of Marine Conservation Institute.


The Cruise Web, Inc.
reply@cruiseweb.com
1-800-377-9383