Activities Abound In the Water
A compilation by The Cruise Web employees.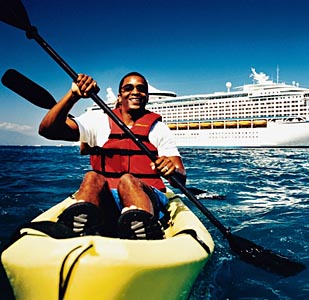 While you may think a day at the beach is purely a time to relax and lie out, our staff at The Cruise Web knows that a trip to the beach can be a thrilling adventure. Find out all the fun activities that await you on your next beach day.
Merry K.
"I love to go kayaking.  It's a great way to explore nature and it gives you a sense of adventure!  It's incredibly easy and a good workout."
Adam W.
"Drift snorkeling off the island of Bonaire in the Southern Caribbean is a definite must-do.  It's an amazing reef with lots of fish and turtles, and you'll see so much more with less effort!"
Doug W.
"I am old enough to be a product of the '80s and young enough to witness the birth of a few great water sports. Wakeboarding has always been a favorite of mine, most possibly because it requires less talent than surfing but still looks just as cool.  Wakeboarding involves standing on a floating board upon which your feet are bound. Think snowboarding but on water and being tugged by boat, typically ranging from 17 – 25 miles an hour.
If you do not own a boat, then I  suggest either windsurfing or kitesurfing.  Windsurfing requires no boat and on a nice day you can experience an absolutely amazing ride!  Surprisingly it requires a good bit of both lower and upper body strength to successfully navigate your way through the waves.
My fondest memory of being out in the water would be out off the coast of Maui hoping to catch a few good morning waves.  I am not much of a surfer, and compared to Hawaii standards, I'm probably pretty terrible.  I remember sitting on my long board and waiting for some kind of sign that would tell me to start paddling with all my might in hopes of catching that perfect wave.  I saw no such thing.  What I do remember is waiting for several minutes and out of nowhere seeing all the locals get up and start paddling in the same direction.  I heard no wave and saw no wave coming so I could not figure why everyone was moving.  About two minutes later a huge wave comes right where they all relocated to and I was left with nothing more than what I started with.
Whatever your pleasure, there is so much fun to be had out there and I encourage everyone to put down the tanning lotion and lounge chairs and take a lesson!  It's never too late."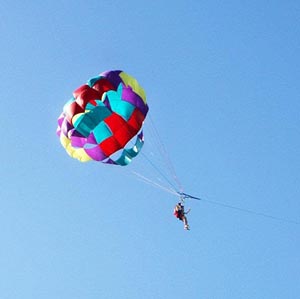 Janie M.
"I have two favorite vacation memories involving water sports, both under and over.  The first one was in Grand Cayman where I went parasailing.  I had been watching other people from the shoreline and thought it would be a great way to see the island.  Once I was strapped into the harness and the boat revved its engine I did experience a few butterflies, but after I was up in the sky with the island and sea spread out below, I felt like I could have stayed up there all day.  There was a large sea turtle I could see from up above and the maze of mangroves encircling the island.
The second lovely experience was snorkeling at Roatán, Honduras.  The water was clear and still, the coral colorful and fish plentiful.  Since the beach only had a few visitors, I was not bumping into other snorkelers.  I loved lazily gliding around just under the surface of the water.  I really felt like I was a part of the environment and not just an observer."
Julie A.
"My daughter and I went on a snorkeling tour in Bermuda on a catamaran. I was a bit apprehensive about taking her as she is just 4 years old, but it was a fantastic little trip. After sailing through the beautiful waters, the catamaran anchored at a stunning little bay where we swam around in 3 foot deep clear water and played with noodles in the sea. We saw a baby squid and lots of fish. On the way back Erin fed the fish off the back of the catamaran – it was the highlight of our trip. We booked the excursion on board through Royal Caribbean and my daughter was free since she's only 4 years old!"
Caroline T.
"I tried paddleboarding for the first time when I was in the Caribbean, which I instantly loved! It is a great workout, a great way to see the island from the water and you can get a tan while doing it!"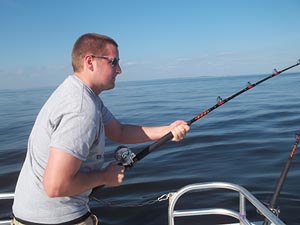 Jarren M.
"I love to go deep sea fishing.  Last time the seas were a little rough, but it was still well worth it since it was great sun, great friends, and overall a great time.   It's more about just being on the water and enjoying the scenery.  If anyone is sailing the Caribbean, most times of the year you'll have the option and opportunity to go on a cruise line shore excursion or even find one on your own with a local vendor.  I have tried both and find both to be great options.  If you do some research on your own you can save a little with a local vendor."
Brandon B.
"I always enjoy exploring a place on a boat or catamaran.  You can see parts of a destination that you would not otherwise see by car or without a long hike.  There is also something relaxing about being on a boat with a cool drink and breeze that makes me feel that I am on vacation."
Beth T.
"When I am in a beautiful Caribbean island, one of my favorite water sports is taking out the wave runners.  It is so much fun to ride around in the gorgeous turquoise water.  There are many different shore excursions that cruises offer for wave runner adventures… so get out there and enjoy!!"
Heather W.
"Last time I was in Nassau, I spent the day at the Sandals Resort.  It was fun to play with all their water toys: they had paddleboats, big bicycles, kayaks, etc.
In Mexico, I enjoyed parasailing. It's not really a water sport, but it started on the beach and I soared over the pacific – very exhilarating!"
Mike H.
"Swimming with the stingrays is great.  If you're brave enough, you can try to pick one up and bring it to the top of the water.  The key is to use two hands, stay in front of the ray, and let him swim right into your chest!"
Seth W.
"I really enjoyed learning to windsurf in Bonaire. We fell over a lot, but the shallow water made learning easier because it wasn't as difficult to get back on the board and pull the sail out of the water. We also appreciated having lots of space in the water since none of us ever mastered steering."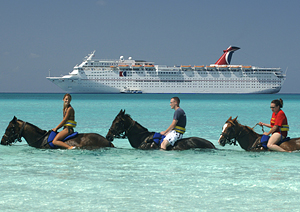 Lynda L.
"We got to snorkel and swim with the stingrays in Nassau.  The stingrays are really very gentle.  The excursion leader gave us fish to feed to the stingrays and we held it in our hands under water and then they swam over our hands and they kind of sucked the fish off our palms.  Really neat!
Horseback riding – yes, a water sport – is also really amazing.  I did this excursion on Grand Turk.  First we got to ride the horse around the island and along the beach.  Then the staff took us back to the corral and placed special water saddles on the horses so we could ride in the water.  The horses love the water and love to run in the water and are actually fast.   So we were able to gallop the horses in the water for a while.  It was also really neat because the horses were competing with each other."
Beth K.
"I'm not a huge water sport kind of girl and I'm not really into thrills, but I love the pool on board the ship while the ship is at sea.  When the ship is sailing fast and the water in the pool is filled to the top, it almost creates a wave pool effect.  I love this so much – it's fun and so relaxing to let the waves of the pool, with the salt water making it easy to float, just carry you."
John H.
"I sit on my lounge chair with a Miller Lite."
John T.
"I really haven't done any "sports" per say… I did go jet skiing once in Nassau with my 14-year-old son sitting behind me. The water was choppy and I started to feel a little nauseous, but I had to look cool to my son when all I really wanted to do was get back on land and hug a tree."
Gloria H.
"My favorite water activity is the "Jacuzzi." Give me a glass of my favorite beverage, some sunshades and a good hot tub and I am in heaven. I know there is supposed to be a time limit on how long to stay in, and I do try to follow it, but man oh man, there is nothing like a barrage of bubbles soothing a tired, achy body. Lie back and just let your thoughts float away with the bubbles. And where else better to get this "hot tub" experience than on a wonderful cruise vacation?  I'm getting anxious; I think it's time to look for another cruise."



The Cruise Web, Inc.
reply@cruiseweb.com
1-800-377-9383