By The Cruise Web, Inc.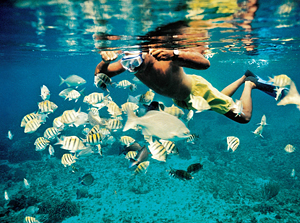 One of the reasons most Western Caribbean cruises stop in Cozumel, Mexico is because it has the most beautiful coastline. But the beauty doesn't stop at the shore, it extends under the turquoise waters that surround the island.
Suggested Itinerary: 7-night Western Caribbean cruise on Royal Caribbean's Oasis of the Seas.

The first thing you will want to do when your ship docks in Cozumel is to take a moment to look out onto the water. You will see that the Caribbean Sea, which borders the island, is composed of three very bright and beautiful colors. Closest to the beach the water is aqua marine. The next color is a brilliant turquoise that gleams in the bright sun. Then as the sand gets deeper the water turns to a glistening sapphire.
Under that stunning water is a world full of more vibrant colors. The Mesoamerican Barrier Reef practically surrounds the island making most beaches a great starting point to discover the intricate underwater structure that extends over 600 miles from Mexico down to Honduras. This reef is home to more than 500 species of fish and more than 60 species of coral. From bright yellows and oranges to deep purples and reds, all colors of the rainbow are represented.
Jacques Cousteau, the famous french oceanographer,  said Cozumel is one of the worlds best scuba diving areas. There are many scuba adventures and excursions in Cozumel. For those with little underwater experience, snorkeling is a great option. Because the water is so clear (not to mention warm) in Cozumel you can see up to 200 feet away!
The beauty of this island will get even the biggest city-dweller to cozy up to mother nature.
What is your favorite thing to do in Cozumel?



The Cruise Web, Inc.
reply@cruiseweb.com
1-800-377-9383