Cruise Web Consultants Tour the Azamara Journey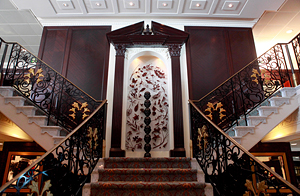 It's not very often that  luxury liners stop in the United States as they are usually sailing to all the exotic corners of the globe, so our consultants jumped at the chance to tour the Azamara Journey when she docked in New York last month. After her brief stop, the Azamara Journey was cruising from New York to Paris on  a transatlantic voyage.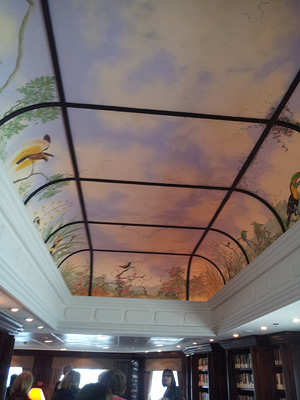 Upon boarding the ship, the consultants made their way around the ship's public spaces. The marvelous grand staircase on the 5th deck was a highlight.  It is surrounded by shops and a cafe. The library not only has a ton of beautiful hard cover books, it has a piano and a delightful mural painted on the ceiling.
Another highlight of the public spaces is the Looking Glass Lounge which has a dance floor that  is surrounded by floor to ceiling windows. When you don't feel like dancing, the lounge also has great tables made for playing card or board games.
The outdoor spaces on the ship were also a highlight. The pool deck is bright and inviting, especially with the sun shining. The lounge chairs are plush and soft and there is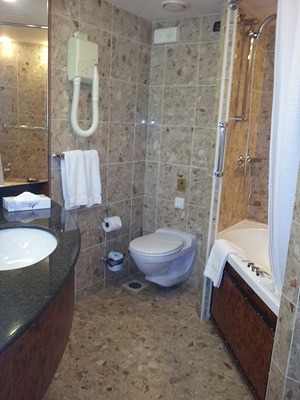 ample shaded space for those seeking the ocean breeze but not the heat of the sun.
The tour also featured  a variety of staterooms, from an inside cabin to the owner's suite. No matter what the size of your stateroom on Azamara, the linens are made from Egyptian cotton and the room includes bath robes and slippers, along with a mini-refrigerator and complimentary shoe shine service. Suites come complete with butler service and a marble bathtub; it's quite luxurious.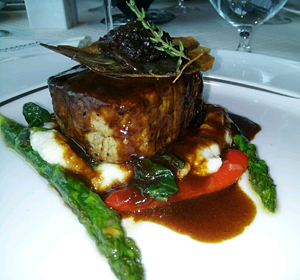 But for most, the highlight of this tour was getting to have lunch at Aqualina, the ship's Mediterranean inspired restaurant on deck 10. The menu included beef carpacio, lobster bisque and filet mignon served with wine and overlooking New York harbor. This was quite an experience.
Now that we've got a chance to see the wonderful accommodations on the Journey, we'd love for you to experience all Azamara Club Cruises has to offer on one of their exciting itineraries.
Have you ever sailed on an Azamara Club Cruises ship?


The Cruise Web, Inc.
reply@cruiseweb.com
1-800-377-9383