3 Perks of Cruising from NYC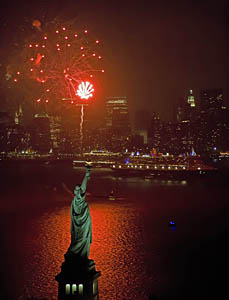 According to the New York Economic Development Center, more than 630,000 people cruised to or from New York in 2011, making it one of the busiest ports in the United States.
So why are cruises from New York so popular? Well, there's the glamour and the history. Plus, there are tons of things to do. Here is a list of three perks to cruising out of or into New York.
1. The Sight of Lady Liberty
America is a country of immigrants and the Statue of Liberty was a welcome face to people sailing from the Old World to the New World. Having the opportunity to be greeted by this 305 foot tall  statue will give you a unique opportunity to be in almost the same spot as your ancestors when they came to America.
2. The Concorde
The Manhattan Cruise Terminal isn't just home to cruise ships, it also has a permanent attraction. The Intrepid Sea, Air and Space Museum invites visitors to go aboard a real aircraft carrier where several other planes and military equipment are featured including the Concorde, the supersonic plane that could fly over the Atlantic in less than 3 hours.
3. The Big Apple without the Big $$$
Find a cruise that stops  overnight in New York. This will help you explore the city at a price that is much more affordable  than staying in one of the five boroughs, where the average hotel price is $350 a night.
Why do you like cruising from NYC?


The Cruise Web, Inc.
reply@cruiseweb.com
1-800-377-9383