Space Shuttle Discovery Ferried Over The Cruise Web's Office
On Tuesday, April 17, The Cruise Web's employees witnessed history being made as the space shuttle Discovery was ferried overhead by a Boeing 747 on its way to Washington, DC.
Discovery, the world's most traveled spaceship and one of NASA's three surviving space shuttles, was on route for Washington Dulles International Airport on the way to its eventual home in the Smithsonian Institution's National Air and Space Museum. Several of The Cruise Web's employees were fortunate enough to step away from their desks and catch a glimpse of the thrilling site, captured below.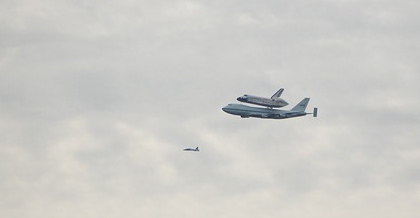 The Cruise Web, Inc.
reply@cruiseweb.com
1-800-377-9383