Small Ship, Big Advantages
By Sherry Jefferson, Senior Cruise Consultant, The Cruise Web.
Having cruised on many a large cruise ship, it was with great anticipation that I looked forward to my first small ship experience this past December on Silversea's Silver Spirit.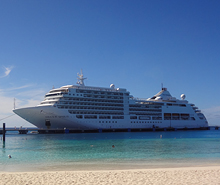 It's funny how when you see the ship by itself, it doesn't seem very small at all. But then you see it next to one of the larger vessels and the "small ship" label starts to make sense. However, don't let the smaller size fool you — cruising aboard a small ship has many BIG advantages.
First off, the ships are very easy to navigate with a lot less walking. The smaller size advantage also allows for docking in less used ports and often times you can dock where other ships may have to tender (when a smaller vessel ferries passengers between the ship and the shore). The ships themselves offer many of the same amenities you would find on the larger ships, but on a smaller scale. You'll usually still have your casino, spa, gym, theater and library and there is a daily schedule of events from morning till night with lectures, live shows, trivia, games and karaoke.
Cruising aboard a small ship creates a sense of camaraderie with your fellow passengers. After so many big ship cruises where I felt anonymous, I was amazed at how warm and inviting the environment was. Everyone you passed in the hallways spoke and it was so easy to meet people and become friendly fast. Plus, the pre dinner cocktail gatherings and open dining let you meet new people each evening. There is a feeling of intimacy and a feeling like you have known people forever. It's like being at a country club. The day we had to leave and say our goodbyes was very tough and there were tears in many people's eyes. It was so easy to feel close to so many in such little time.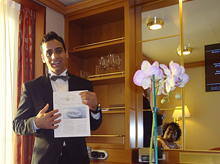 Another nice advantage is the staff to passenger ratio.  Depending on the ship it can be almost 1:1.  It's so nice to have a drink brought to you without asking, or your chaise lounge prepped with towels to lie on.  As one who loves good service and pampering, but not in an obtrusive way, this was right up my alley.  Imagine my surprise the first morning at breakfast when the maitre'd greeted me by name.
One of the highlights that most exemplifies small ship service and their small touches would be one evening at dinner when my travel companion didn't bring her glasses with her and was waiting for me to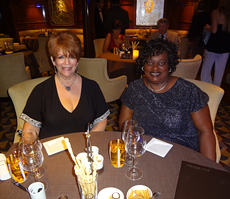 finish looking at the menu so she could borrow mine.  The waiter who had been standing there excused himself and returned a few minutes later with a napkin draped silver tray with a few pairs of reading glasses in various strengths for her to use.  Wow, that really impressed us.
To borrow a phrase that may be apropos, it's nice being a big fish in a small pond rather than a small fish in a big pond.

Sherry Jefferson
Senior Cruise Consultant
The Cruise Web, Inc.
1-800-377-9383 ext. 307
sherryj@cruiseweb.com