Celebrity Chefs Receive Culinary Honor
Courtesy of Celebrity Cruises.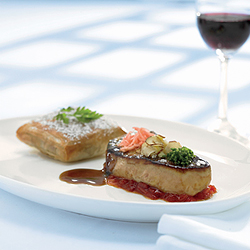 For the first time ever Celebrity's master chefs Jacques Van Staden and John Suley will cook at the The James Beard House, which is a culinary honor. James Beard was a chef who helped guide American chefs and enthusiasts to reach culinary excellence. Today, to receive an award from the James Beard Foundation is a supreme honor.
The James Beard House is known for its events, including guest chef-led dinners, which aim to educate, inspire, entertain and foster an appreciation of cuisine among members as well as the general public, while benefiting the non-profit James Beard Foundation.
"We selected Jacques and John to cook at the James Beard House because the culinary journey that they have created for guests on Celebrity Cruises' ships truly is outstanding," said Izabela Wojcik, Director of House Programming, The James Beard Foundation. "Their incredible creativity is the reason why Celebrity's guests have the opportunity to delve into an extraordinary range of globally influenced flavors and presentations."
"We want people to realize that the cuisine we're serving on our ships is extraordinarily unique, creative, and modern, and it's a large part of what makes the Celebrity vacation experience unique. What we offer has in many ways changed the dynamics of cruise ship dining, and there's no better way to tell our story than by cooking at the James Beard House." said Van Staden.
Many of the dishes for this event are served onboard  like the Wild Boar Baby Back Rib Spring Rolls with Truffle Barbecue Sauce and the Grand Marnier Soufflé. Keep reading to find out the full menu. The April 5 dinner will consist of six hors d'oeuvres and canapés, five main dishes and three desserts.
MENU
Hors d'Oeuvre

Scallop Tartare with Sea Urchin Emulsion and Pickled Ginger
Spicy Sweet-and-Sour Pork Belly with Toasted Peanuts
Wild Mushroom Risotto with Parmesan Foam
Eggplant Imam Biyildi with Chickpea Fritters
Wild Boar Baby Back Rib Spring Rolls with Truffle Barbecue Sauce
Toro Tacushi with Sesame–Soy Emulsion
Domaine Chandon étoile Brut NV
Cakebread Cellars Sauvignon Blanc 2007

Dinner

Hamachi Tartare and Carpaccio with Blood Orange–Ginger Espuma, Pepquino Melon Salad, and Sakura Cress
Alaskan King Crab Nage with Ramp Panna Cotta, Osetra Caviar, and Pickled Kumamoto Oysters
Seared Foie Gras–Watercress Salad with Heirloom Tomato Chutney and Crispy Boondi
Line-Caught Halibut with Sunchoke Fondant, Fennel, White Asparagus, Fava Beans, and Black Truffle Emulsion
Lamb Quattro > Za'atar-Crusted Lamb Loin; Lamb Ravioli; Merguez Sausage Boolani; and Lamb Rib with Morels, Pea Blini, and Lamb Jus

Dessert

Grand Marnier Soufflé
Crêpe Ballon Rouge
Petits Fours and Gifts


The Cruise Web, Inc.
reply@cruiseweb.com
1-800-377-9383