By The Cruise Web, Inc.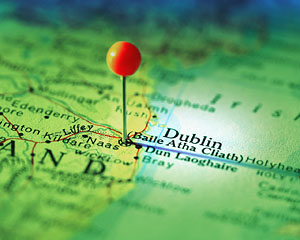 There's a reason the city of Dublin is investing over 600 million euros into a cruise ship terminal. Cruises are offering more and more itineraries that include the Emerald Isle because there are tons of things for people to do and see.
Here is a sampling of some of the sights and experiences that await you in Dublin, the largest city in the Republic of Ireland.
Turn the Page
Dublin is also known as the city of words. It was the home to several major authors like James Joyce and George Bernard Shaw and the setting for some lauded novels like "Ulysses" and "Angela's Ashes." There are tours of significant places in the life of these authors along with the Dublin Writers' Museum, which goes in-depth into the city's literary history. There are even two institutions dedicated to sharing the work of James Joyce to visitors.
Get In the Spirit
The Guinness Storehouse is Ireland's most popular tourist attraction. The building guides visitors through the history of the beer and includes a complimentary pint that can be consumed in their Gravity Bar that has panoramic views of the city.
The Old Jameson Whiskey Distillery provides insight into the triple distilled whiskey that Ireland has become famous for. The Distillery is no longer in use, but was the original distillery used by the company starting in 1780. And no tour would be complete without a free sample.
Discover the Past
Ever wanted to feel royal? Well you can pretend you're at home when you visit Malahide Castle, which was built more than 800 years ago and inhabited by a member of the Talbot family from 1185 up until 1973.
Take a guided tour of St. Patrick's Cathedral, which was built in 1220 and is said to be near the well where its namesake baptized converts.


The Cruise Web, Inc.
reply@cruiseweb.com
1-800-377-9383